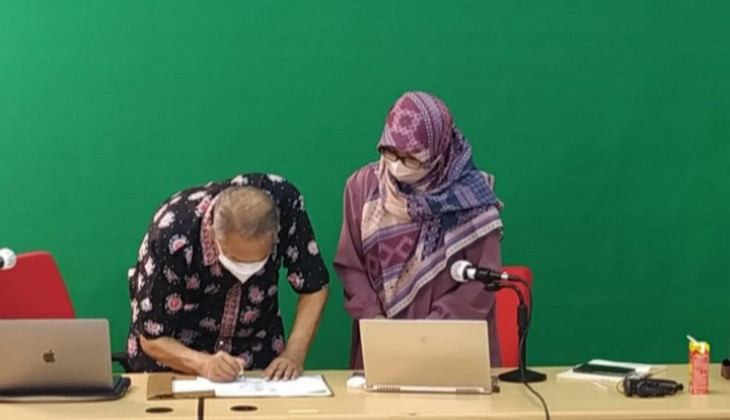 The UGM Center for Human Health and Nutrition initiated the Indonesia Nutrition University Network (NATURE), a collaborative platform among universities and academic institutions in Indonesia that focuses on eradicating anemia and stunting.
Since its inception in November 2021, this Network has had representatives from 27 institutions, 25 of which are universities from 21 provinces, and the rest are the Eijkman Institute and the Indonesian Stunting Prevention Acceleration team.
As is known, anemia and stunting remain two big problems in Indonesia today. Various interventions have been made to suppress these two but are still progressing slowly. Several Indonesian experts have recommended measures for anemia and stunting prevention and eradication.
Professor Hardinsyah of IPB University opined that the knowledge about stunting must be transferred to the community early, starting from pre-marriage to the infant reaching two years of age, depending on each individual's unique growth and development.
"Prospective parents must understand how to obtain optimal nutrition since they are about to get married. If it's only for the first 1,000 days of the child's life, it won't be enough. The second recommendation is to strengthen stunting reduction policies. Convergence-wise, the existing policies are still weak, especially in regencies/cities, villages, and RWs (community unit)," said Hardinsyah.
Furthermore, Professor Mohammad Juffrie (UGM), Professor Indrawati Liputo (UNAND), Dr. Agussalim Bukhari (UNHAS), Dr. Idrus Jus'at (UEU), and Dr. Safarina G Malik (Eijkman Institute) explained the results of various studies on nutritional and non-nutritional anemia in Indonesia.
Anemia is not only caused by iron deficiency but also due to genetic factors and infectious diseases, such as malaria and tuberculosis. Therefore, it is necessary to take account of the causes of each case in each area. Physician nutrition specialist Dr. Widjaja Lukito added that collaboration and an eco-nutrition approach, namely observing how the environment, health, and nutritional status are interrelated, were crucial in handling anemia and stunted growth.
The National Population and Family Planning Agency appreciated the establishment of NATURE. The Network is expected to strengthen the capacity of its members as academics, researchers, and assistants for regions to carry out education, research, and community service activities, apart from tackling nutrition problems in Indonesia.
Author: Ika