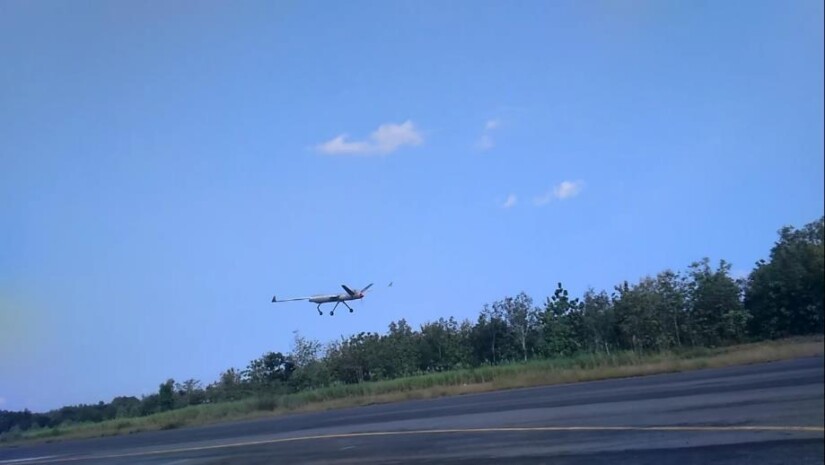 The UGM Mechanical Engineering research team led by Dr. Gesang Nugroho has developed an autonomous unmanned aerial vehicle (UAV) for the early detection of wildfires. The 'Elang Caraka' drone has a flight time of up to six hours and a range of 200 km to conduct surveillance of the designated area.
"Operators control the drone remotely and view recorded images directly through the monitor on the Ground Control Station," said Gesang.
Indonesia's forest area has shrunk in recent years, largely due to forest fires and illegal logging. Geographical conditions, extensive peatlands, lack of road access, limited human resources, and lack of facilities hinder monitoring and early extinguishment of fires.
"When the forest burns, anyone rarely knows where the hotspots are," he said.
Usually, the detection of hotspots is done using helicopters which are expensive and can only operate during the day. When a fire breaks out at night, it is already bigger the next day, making it difficult to extinguish. With the Elang Caraka, hotspots can be detected early, even at night, and fires can be prevented from spreading.
With a wingspan of 3.6 m and a fuselage of 1.92 m, the Elang Caraka has a 30cc engine to fly its 20 kg overall weight and only requires a runway of 90 m for takeoff and landing. The drone is also equipped with a thermal camera to transmit live aerial footage. Its intelligent Electrical Nose (Enose) sensor will generate an output graph that increases when smoke is present.
"Enose works like a human nose, using an array of gas sensors that can detect the smoke," he said.
Gesang added that the fire-spotting drone had completed the required flight test hence ready for operation. The operational costs are also much cheaper than the helicopters. He hopes the Elang Caraka can help reduce the number of forest and land fires in Indonesia.
Author: Gloria