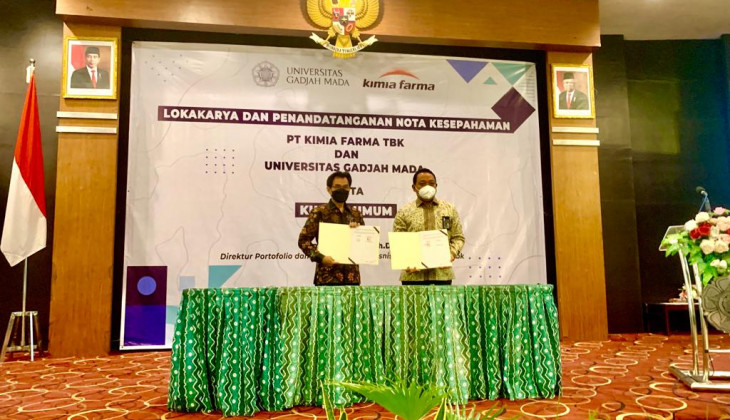 Universitas Gadjah Mada (UGM) and state-owned pharmaceutical company Kimia Farma have agreed to cooperate in the fields of education, research, community service, and human resource development. The signing of the MoU took place at the UGM Campus, Yogyakarta, Friday (21/1).
President Director of Kimia Farma, Verdi Budidarmo, said the collaboration with UGM was to advance and develop education and health in the country and encourage more pharmaceutical research breakthroughs, apart from improving the quality of human resources in the field. The company will provide opportunities for lecturers and students to take part in research development.
"There will be hands-on activities for students, recruitment and training of human resources, and other forms of collaboration," said Budidarmo.
UGM Vice-Rector for Education, Teaching, and Student Affairs, Professor Djagal Wiseso Marseno, said that this collaboration aimed to encourage the development of pharmaceutical raw materials in the country, which have been heavily dependent on imported materials.
"Indonesia currently lacks pharmaceutical raw materials. However, with the help of domestic industry as well as our resources and biodiversity, we have the assets and potential to develop the materials on our own," said Professor Marseno.
Cooperation with pharmaceutical companies, he continued, would boost the research ecosystem in the industry. This way, more research products and innovations of lecturers and researchers are distributed to the public.
Author: Gusti Grehenson