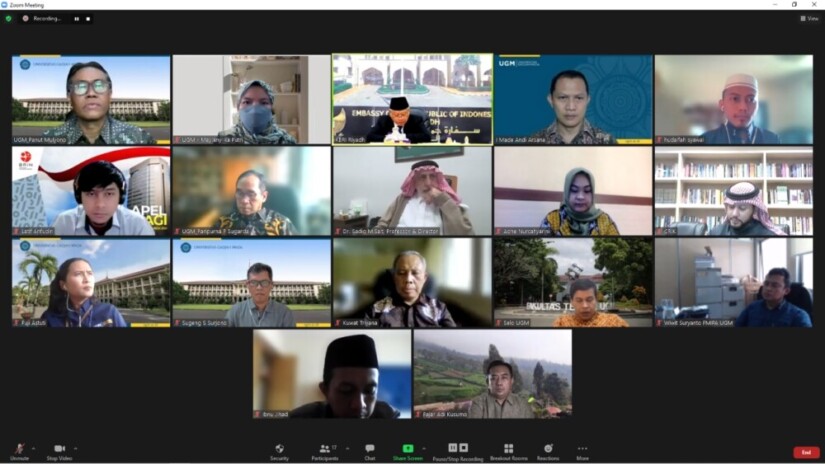 On Tuesday (25/01), UGM held a virtual introductory meeting with King Fahd University of Petroleum and Minerals (KFUPM), Saudi Arabia. This meeting was intended to explore the partnership opportunity between these two institutions, thanks to the Indonesian Embassy in Riyadh, who have been actively bridging the initial communication.
This meeting was opened by the Indonesian Embassy in Riyadh with a warm remark by H.E. Dr. Abdul Aziz Ahmad, the Ambassador of Indonesia for the Kingdom of Saudi Arabia.
"Developing a cooperation on science and technology, economy, and social sciences are among priority area of my diplomatic policy at the Embassy of the Republic of Indonesia in Riyadh. There are three areas of possible cooperation: teaching and education, research and publication, and community development." said Ambassador Abdul Aziz Ahmad.
"UGM is open to any form of mutual collaboration. … Saudi Arabia has always been an important country to Indonesia and that is why we keep our university open for any possible collaboration with higher education institutions from the country." UGM's Rector Professor Panut Mulyono replied in his remark.
Dr. Sadiq Sait Mohammed, Director of Industry Collaboration at KFUPM, responded that they were also open to any collaboration, especially in their areas of expertise, namely technology, engineering, science and architecture. Dr. Mohammet also conveyed his willingness to facilitate a matchmaking forum with the relevant faculties for further discussion on possible joint research.
Both UGM and KFUPM also agreed to start the partnership with simple and doable activities amidst the current situation, for example joint virtual short program, where both of them can contribute in sending the students and professors to participate. (Maylany/OIA)