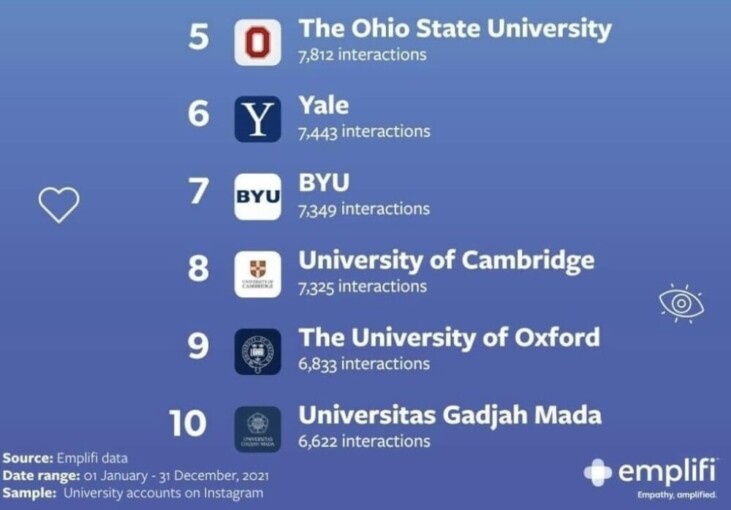 Emplifi, a US-based CX platform providing company, has included Universitas Gadjah Mada (UGM) in its list of the top 10 universities on Instagram by median organic post interactions worldwide. According to its release, seven of the ten universities are located in the United States, while the other two are in the United Kingdom.
"UGM is the only campus from Indonesia listed among the top 10," said Dr. Gugup Kismono, Secretary to the UGM Rector, Tuesday (1/2).
Generating 6,622 median interactions on Instagram throughout 2021, UGM is almost level with other world's best universities, including Harvard, Stanford, Oxford, etc.
"Of course, it is a proud moment for us to be ranked in the top 10 alongside universities whose names have gone global," said Kismono.
He hopes that UGM's growing presence on social media, such as Instagram, Facebook, and TikTok, can increase engagement with a more diverse audience, allowing information to reach more people.
"UGM will continue to adapt to the use of hybrid communication media. That way, we can reach the younger generation without leaving the older ones," he said.
Earlier this year, UGM was named the most popular Indonesian university on social media in 2021 by 4ICU UniRank. In this ranking, UGM scores the highest number of Facebook likes and Instagram followers of any university in Indonesia, with 446,257 likes as of February 2021 and 781,814 followers as of April 2021, respectively.
Author: Gloria