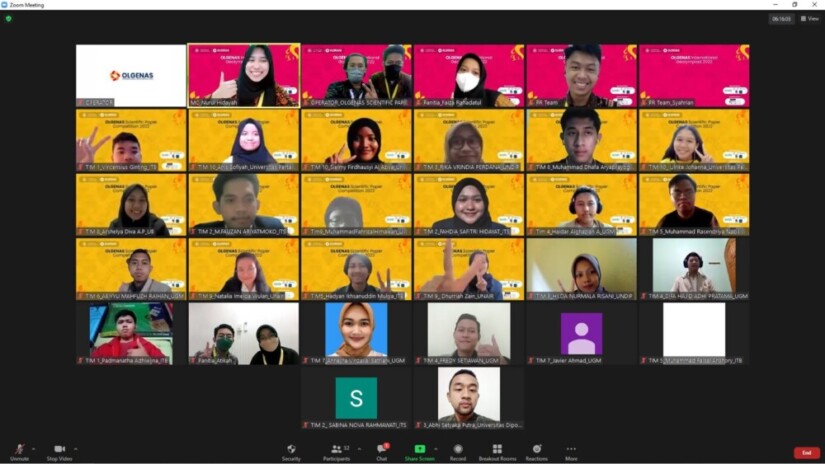 The OLGENAS International Geolympiad 2022 has been concluded successfully despite being held online. This year, the UGM Faculty of Geography picked The Future Power: Renewable Resources as Stabilizing Instruments Towards Global Security as the theme of the event.
President of OLGENAS 2022 Akbar Jury Agmar said there was a brand new competition this year. In addition to the usual competitions for junior and high school students, university students in Indonesia could also participate in the event through its paper competition.
"The OLGENAS Scientific Paper Competition is a new competition, which was participated by 49 teams from 17 universities in Indonesia," he said, Friday (4/2).
The OLGENAS International Geolympiad accepted 55 participating teams at the junior high school level and 110 at the high school level from almost all regions in Indonesia. There were also participants from Bulgaria who joined the competition.
"The international participants are Daniel Dimitrov and Atanas Ivanov from Bulgaria. They competed at the high school level," he explained.
OLGENAS 2022 also organized special activities comprising a workshop, virtual tour, public lecture, and focus group discussion for the supervising teachers. It also hosted an international talk show called GEOTALK with speakers such as Alessandra Millican (Coordinator of Renewable Energy Sector in ESRI), Faela Sufa (Director of ITDP Southeast Asia), and Professor Deendarlianto (Head of UGM Center for Energy Studies).
Author: Agung Nugroho