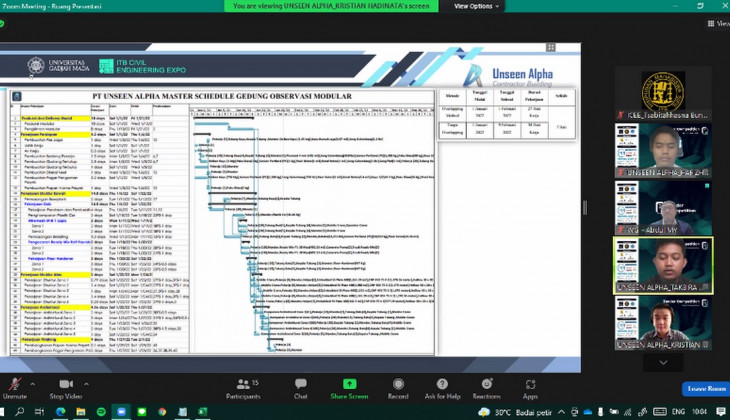 The Unseen Alpha, which consists of Civil Engineering students, namely Takbira Muhammad Fikri, Hafizh Naufal Riswanda, and Kristian Hadinata, has been named Tender Competition winners of the 2022 ITB Civil Engineering Expo.
This annual series of events features a national seminar, student conference, and virtual exhibition. Various competitions are also held, such as solving business problems or problems related to civil engineering, designing bridges, or tendering for a project.
With "Utilization of Modular Construction as Design Alternative to Achieve Sustainable Construction" as the theme, the Tender Competition invites students to put in the best bid for a given modular construction project.
In this contest, the Unseen Alpha tendered for the construction of observation facilities and shelters for patients with COVID-19 or emerging infectious diseases on Galang Island, Riau. Under the supervision of Dr. Tantri Nastiti Handayani, the team adopted the overlapping technique and the concept of minimal waste in their proposed plan.
"We have to formulate an innovative execution method to get a time-effective master schedule and an accurate construction cost estimate. We also need to comprehensively calculate materials and equipment and arrange a schedule for workers to achieve the most optimal total working time," said team leader Takbira Muhammad Fikri, Wednesday (16/2).
Representing the team, Fikri hopes that modular construction can thrive, and Indonesia will have more modular buildings. He opines that modular construction produces less waste and thus offers more sustainable solutions.
"We hope to maximize the knowledge and experience we have gained from this competition. Hopefully, this achievement can ignite enthusiasm and provide an additional picture of the competition for the next participants," said Fikri.
Author: Desy