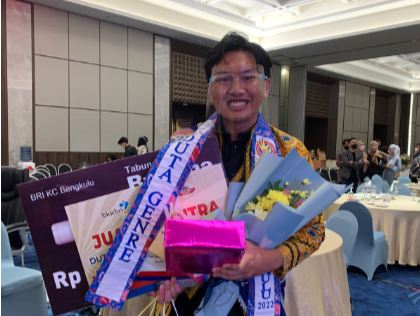 Adhitya Latif Prahesta, a Public Sector Accounting student, has been crowned runner-up of the 2022 GenRe Ambassador of Bengkulu.
GenRe or Generasi Berencana (well-planned young people) is a program initiated by the National Population and Family Planning Board to prepare the young generation for career, education, and future through insights into sex education, family planning, and teenage problems.
In this contest, Adhitya competed with 60 participants who served as representatives of 10 regencies/cities throughout Bengkulu. Each finalist must pass several tests first, ranging from a knowledge test to a personality test.
"I dedicated this win to all the young people. Let's walk side by side against risky behaviors to bring about Indonesia's Golden Generation in 2045," said Prahesta, Tuesday (1/3).
In line with his role as a GenRe Ambassador, Adhitya advised adolescents across Indonesia to start planning for the future and avoiding child marriage, drugs, alcohol, etc.
Author: Gusti Grehenson