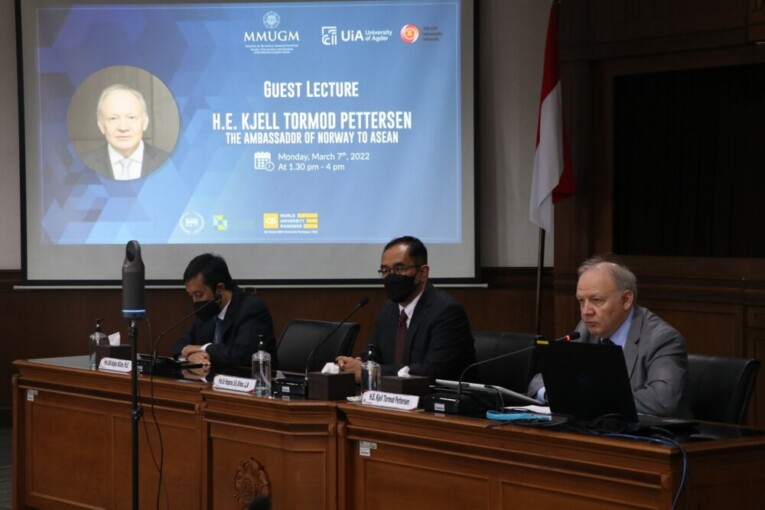 In collaboration with the ASEAN University Network (AUN) and the University of Agder, Norway, Universitas Gadjah Mada (UGM) offers the ASEAN Master in Sustainability Management program.
This collaborative program is initiated and funded by the Norwegian Ministry of Foreign Affairs. For the first two intakes of this program, the Norwegian government will award a full scholarship of USD 17,000 to selected students from ASEAN countries. Out of 90 applicants, the program admitted 23 students from 8 countries, namely Indonesia, Malaysia, Vietnam, the Philippines, Myanmar, Thailand, Laos, and Cambodia.
"These students are currently in the second semester of the program. Next semester, they will do internships and thesis or take a double degree opportunity at the University of Agder, Norway," said Program Coordinator at UGM, Rocky Adiguna, Ph.D.
Ambassador of the Kingdom of Norway to ASEAN Pays a Visit to UGM
H.E. Kjell Tormod Pettersen delivered a guest lecture to ASEAN Master in Sustainability Management students on Monday (7/3). According to the Ambassador, his party is committed to encouraging heightened political and security cooperation, especially concerning reconciliation and security, good governance, and human rights.
The Norwegian government establishes economic cooperation with ASEAN in the energy sector and free trade, whereas socio-cultural cooperation between both parties focuses on climate change issues, sustainability in the marine sector, environmental protection, education, etc.
In enhancing future cooperation, Norway and ASEAN must also address challenges in economic integration, climate change agenda, green economy, air and sea pollution, human rights enforcement, illicit trade, geopolitical tensions, and political conflicts in Myanmar.
"The ongoing programs include establishing the ASEAN Master in Sustainability Management, combating marine debris, developing clean energy, realizing peace and security, and empowering women," said Ambassador Pettersen.
UGM Vice-Rector for Cooperation and Alumni, Prof. Paripurna Sugarda, said the ASEAN Master in Sustainability Management program embodies the commitment of ASEAN and Norway in dealing with environmental conservation issues. According to him, sustainable management is crucial today. Global trade brings about not only prosperity but also climate and environmental crises.
"Profit should not be the only measure of performance. Our challenge is to ensure that future generations inherit an earth that is no worse off than the one we enjoy today," said the Professor.
Author: Gusti Grehenson