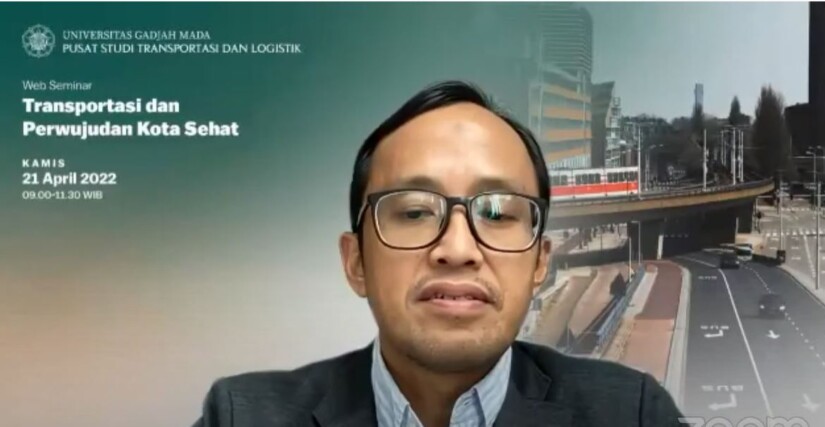 UGM Center for Transportation and Logistics Studies hosted a webinar on 'Transportation and the Realization of a Healthy City' to discuss policy recommendations for planning and building healthy cities in Indonesia on Thursday (21/4).
One of the speakers, Dr. Sany Roychansyah, lecturer at the Department of Architecture and Planning, said that apart from beautifying cities, urban space development in Indonesia must also take notice of the physical, mental, and social health of its citizens.
To that end, the planning policy is directed at building a healthy and enchanting city by increasing pedestrian roads, reducing vehicle volume, providing sports facilities, and preparing public transport infrastructure.
"The realization of a healthy city is where all individuals support each other in carrying out all the functions of life and developing their potential," he said.
Urban health, he continued, did not only concern physical health but also mental and social health. The indicators for the assessment of healthy urban development comprise 10% of the physical environment, 40% of social and economic factors, 30% of healthy living behaviors, and 20% of healthcare facilities.
"A healthy city is always measured by health status, risk factors, as well as health systems and services. It is undeniable that the health component has a larger portion, but social characteristics, spatial planning, policies, and culture are also important indicators to review," he added.
Building a healthy city means taking account of health in transportation planning to bring down the obesity rate of citizens, reduce vehicle emissions, and promote environmentally-friendly vehicles. The transportation sector plays a role in supporting the 15-minute city concept where all resident amenities are accessible within a travel distance of fifteen minutes.
"Focus more on pedestrians, such as in those zero-carbon cities or car-free cities, to reduce the number of vehicles in the city. Also, increase the number of sports facilities by following the sports city concept," he said.
In addition, Roychansyah argues that the criteria for assessing a healthy city must include how the city prioritizes access, mobility, and health-friendly transportation.
Author: Gusti Grehenson