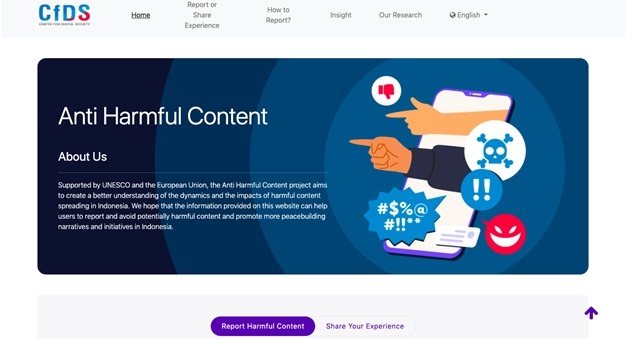 UGM Center for Digital Society (CfDS) has launched the harmful content reporting platform https://antikontennegatif.id as part of the #SocialMedia4Peace project run by CfDS with support from UNESCO and the European Union. This initial launch aims to solicit input from the public regarding the ease of use of the platform and suggestions for further development.
CfDS researcher Paska Darmawan said people could report harmful content they encountered on social media and share their relevant experiences on the website.
"The public can take advantage of this website (to report harmful content) and share it with others, providing advice that can help many people," said Darmawan at the Faculty of Social and Political Sciences, Monday (25/4).
Senior researcher at CfDS Dr. Novi Kurnia added that based on 2019 data from the Indonesian Ministry of Communication and Informatics, there were more than 430 thousand reports of harmful content, including disinformation, pornographic content, defamation, hate speech, misinformation, and others. The diversity of content types and mechanisms for dealing with malicious content set by social media platforms often confuse people.
"The Anti-Harmful Content website also offers convenience for the public by providing images that illustrate the steps for reporting harmful content on the most widely used social media platforms, such as Facebook, Twitter, TikTok, Instagram, YouTube, and others," said Kurnia.
She emphasized that the website does not function as a substitute for content reporting mechanisms available on social media but as a form of collaboration between various stakeholders to provide input for improving the digital ecosystem. In addition, this website is a follow-up to CfDS' legal review of the legal and regulatory framework in Indonesia regarding the handling of illegal and malicious content in the digital space.
"The results of this study indicate that there are still gaps for improvement in terms of social media platforms, government, NGOs, and academic groups to create a safe social media space," she said.
Apart from warding off harmful content on social media, the Anti-Harmful Content website is expected to provide a better understanding to the public of the dynamics and impacts of the spread of harmful content in Indonesia and develop peaceful and inclusive cyberspace for its users.
The Anti-Harmful Content website will be officially launched at the Multistakeholder Coalition Conference in May 2022. Besides Indonesia, the #SocialMedia4Peace project is also run in Kenya and Bosnia-Herzegovina.
Author: Agung Nugroho