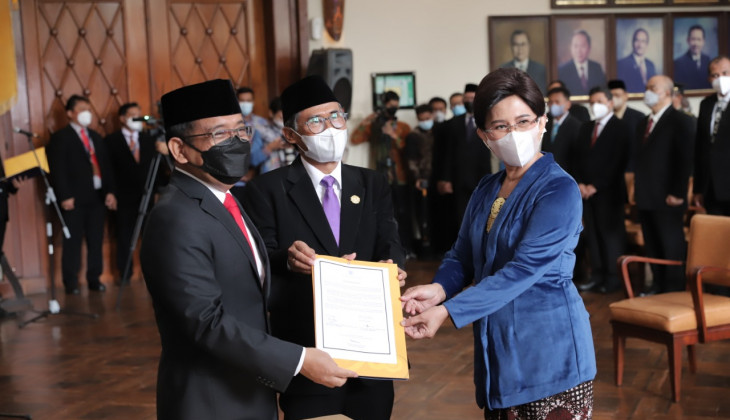 Professor Ova Emilia took her oath of office as Rector of Universitas Gadjah Mada (UGM) for 2022–2027 on Friday (27/5). She succeeded Prof. Panut Mulyono, whose term of office expired in May.
Chair of the Board of Trustees, Prof. Pratikno, also serving as the current Minister of State Secretariat, led the ceremony at the UGM Senate Hall. Pratikno hopes that the elected rector can unite 50 thousand students to help improve humanity, society, nation, and state in accordance with the UGM motto–Locally Rooted, Globally Respected.
"Congratulations. We hope the new rector can integrate the strength of UGM into Indonesia's," said Pratikno.
Ova Emilia expressed her gratitude for the trust given to guide UGM for the next five years. She is committed to strengthening UGM's identity as the Pancasila University, the National University, the University of Struggle, the People's University, and the University of the Cultural Center.
According to her, UGM is now entering an era of massive change. The COVID-19 pandemic, digital transformation, and climate change have disrupted all aspects of human life, including the governance of higher education institutions. UGM seeks to instill and maintain the unity, diversity, and identity of the Indonesian nation as well as to lead the transformation of the country.
"UGM plays a significant role in maintaining Indonesia's strategic leadership on the global stage by providing critical and constructive studies and recommendations that adhere to scientific principles to the government," said Emilia in her inaugural address.
Several figures were also present at the event, such as Budi Karya Sumadi (Minister of Transportation), Edward O.S. Hiariej (Deputy Minister of Law and Human Rights), Ganjar Pranowo (Governor of Central Java), Muh Aris Marfai (Head of the Geospatial Information Agency), Hasto Wardoyo (Head of the National Population and Family Planning Board), and Ali Ghufron Mukti (President Director of BPJS Kesehatan).
Born in Yogyakarta, the new rector completed her undergraduate medical education at UGM and later gained her M.Med., Ed. from the University of Dundee, Scotland. Prof. Ova Emilia is an obstetrician-gynecologist, completing her specialty and subspecialty training at UGM. She also holds a Ph.D. in Clinical Teaching from the University of New South Wales, Australia.
She was elected after receiving 21 votes from 25 votes in the Plenary Meeting on Friday (20/5). Previously, she served as Dean of the UGM Faculty of Medicine, Public Health, and Nursing. Prof. Emilia has authored dozens of books and international journals and has been involved in creating many innovations, advocacy, and policies.
Author: Ika
Translator: Salma
Photo: Firsto