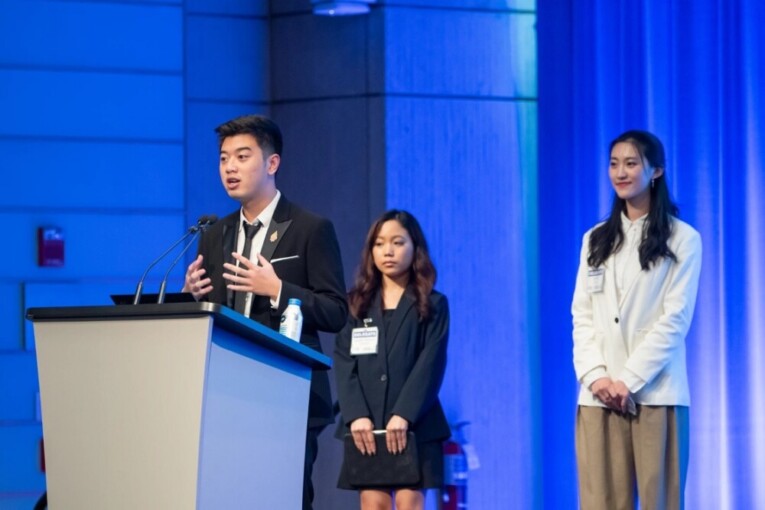 Angelo Wijaya, an alumnus of the UGM International Relations, has claimed victory at the 2022 World Bank Group Youth Summit's Case Challenge. His team received the most votes from the jury and audience in the final round of the competition.
"Grateful for picking up the win at the 2022 World Bank Group Youth Summit, which this time has the theme Unlocking the Power of Inclusion for Equitable Growth," said Angelo, Monday (13/6).
More than 6,000 young people from all over the world took part in this Summit online and in person at the World Bank Group headquarters in Washington, D.C. Over 1,000 participants signed up for the Case Challenge, and only 200 were selected.
The Summit seeks to gather and generate solutions from young people for problems related to economic, environmental, and social inclusion. Angelo's proposal explores how governments in developing countries can innovate and strengthen policies around social protection.
"Social protection is an essential element in pushing the economic inclusion agenda, especially for those who come from vulnerable groups, including youth. With current developments, the young population is becoming more vulnerable due to the large number of precarious work. Therefore, youth must be a priority in government policies," said Angelo.
As part of the prize, Angelo and the team will have the opportunity to express their written ideas on a WBG Blog and the WBG Youth Summit 2022 website and engage in mentorship with World Bank, IMF, and UN staff.
"The committee emphasized the importance of diversity, equality, and inclusion in the various dialogues and panels held at the event. Apart from the speakers, participants can also learn from each other as each is a young leader who excels in their respective fields," he said.
Author: Agung Nugroho