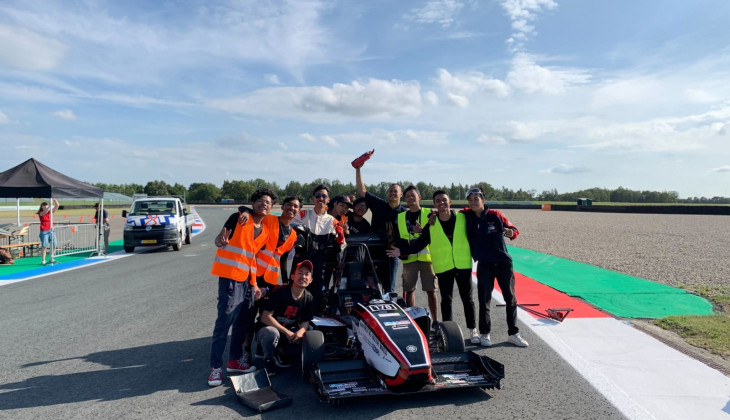 Bimasakti was named Business Plan Presentation and Golden Fighter Award winner of the 2022 Formula Student Netherlands (FSN) held at the TT Assen Circuit, the Netherlands, from 9 to 14 July.
Head of Bimasakti Aditya Maheranta said the FSN had 44 participants from 15 countries this year. Against these talented teams, Bimasakti was ranked 6th in the Technical Design Presentation, 11th in the Cost Analysis Presentation, and 7th in the CV Class Overall Classification.
"Bimasakti is the only non-European team that passed the inspection. Only 9 CV cars in total were qualified," said the Mechanical Engineering student on Tuesday (19/7).
Despite fierce competition, with higher standards of car safety inspections and rules, the team remained undaunted and iron-willed that they picked up the Golden Fighter Award. Initially, the jury thought that the Bimasakti car would fail the inspection because many of its components were in need of repair.
"We fixed the car at the race location amid limited equipment and members. Eventually, we were declared to have passed the inspection and had the opportunity to compete in the Endurance category," said Aditya. "The jury saw this as a reminder to any formula student team to push ahead and never give up against all odds."
Bimasakti advisor Dr. Fauzun said the team deserved victory for their hard work and dedication. He hopes this result will improve the team's soft and hard skills.
"This is the first time Bimasakti participated in the FSN. Claiming awards here is certainly a pleasure for us, UGM, and Indonesia. Hopefully, they can keep up the good work and achieve higher success in the future," he said.
Author: Ika