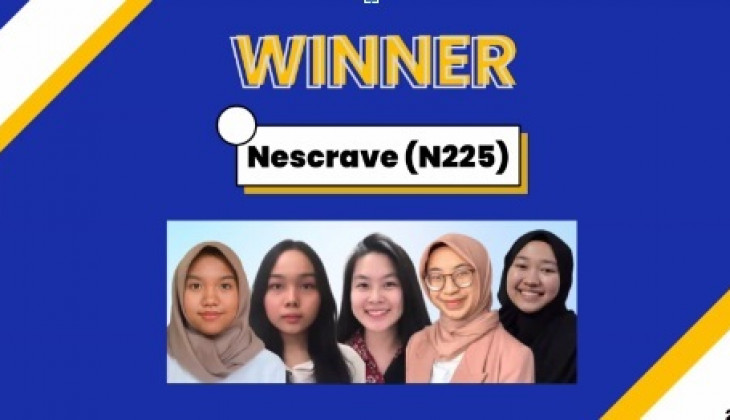 Four UGM students teaming up with a Justus Liebig University student claimed the top prize at the 2022 NUS FoodTech Challenge held from 9 May to 7 July. The team proposed a low-carb, sustainable RTE meal product Nescrave and a recycling app Nessential.
Alma Mahira Lazuardani (Computer Science UGM), Anette Geraldine (Management UGM), Deborah Patricia Lizar (Food and Agricultural Product Technology UGM), Rojwa Legiana Rachmiadi (Management UGM), and Ersintya Swasthi Pramadhani (Food Chemistry JLU) target the RTE innovation for people stuck in hustle culture.
"We want to raise awareness about the importance of breakfast and recycling by creating nutrient-dense Ready-to-Eat (RTE) products to increase the productivity of workaholics in Southeast Asia and integrated apps that spark interest in recycling," said Ersintya, Friday (22/7).
The team created a healthier yet delicious breakfast alternative for busy bees using taro enriched with purple bauhinia extract as a carbohydrate substitute and toppings on Asian flavors, such as gyudon, bibimbap, and rendang.
Together with Nessential, a mobile app integrated with recyclables, the team intends to catalyze the emerging public interest in product recycling. Customers can collect points by recycling Nescrave products and playing games.
"This achievement gave us an extra motivation to do UGM and Indonesia proud on the global stage. We hope it also drives more collaboration among Indonesian students across the globe," she said.
Sponsored by IFF, Nestle, and PerkinElmer, the NUS FoodTech Challenge is an annual competition that brings together students from various universities to exchange and develop innovative food tech ideas relevant to today's food industry issues.
The competition consists of a pre-competition (online workshop), a preliminary round, mentoring with industry experts, and a final round where all finalists present their ideas to the judges.
Author: Ika