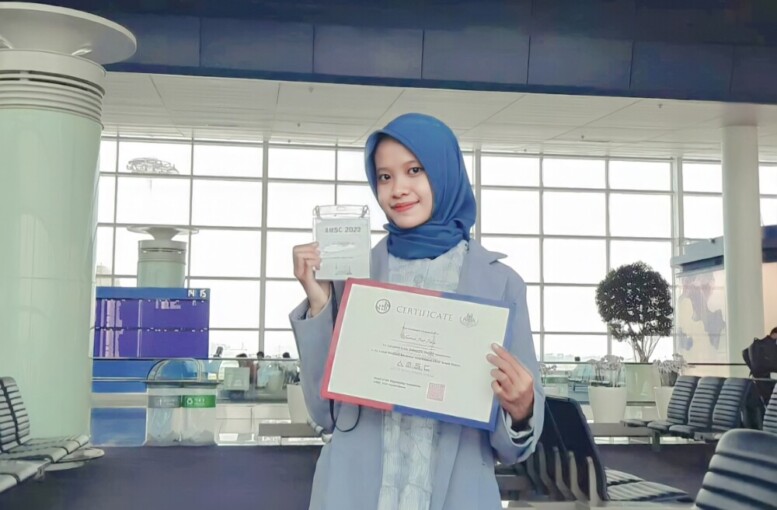 UGM student Rifkanisa Nur Faiza, with teammates from Sam Ratulangi University and Universitas Indonesia, beat eight other finalists from England, Thailand, India, Singapore, and South Korea at the 2022 Asian Medical Students' Conference (AMSC).
The Conference took place in Seoul from 17 to 23 July and was hosted by Asian Medical Students' Association (AMSA) South Korea.
Going by the name of Erudite, the team represented Indonesia after winning the national preliminary. In the international round, the team competed against top teams from across 28 countries in Asia, the Asia-Pacific, and beyond.
"The top nine teams were shortlisted to present their ideas in the final," she said when contacted.
Rifkanisa won first place in the Scientific Poster category. Her team conducted a systematic review and meta-analysis of virtual reality telerehabilitation to improve balance and gait in Parkinson's Disease (PD) patients.
Parkinson's is the world's most common neurodegenerative and movement disorder, with prevalence increasing by 155.5% in the last 20 years. VR telerehabilitation is a brand-new training approach that has shown to be as effective as in-person treatment.
She said VR telerehabilitation was more time and cost-effective for patients and could improve their access to clinical rehabilitation. The team concluded that PD patients with VR telerehabilitation had significantly more improved motor function and quality of life than those undergoing conventional rehab. Engaging VR scenes also help increase patient optimism, experience, and compliance.
"VR scenes are based on daily activities. Hence, VR is more relevant to improve the quality of life and daily functions," she said.
Author: Ika