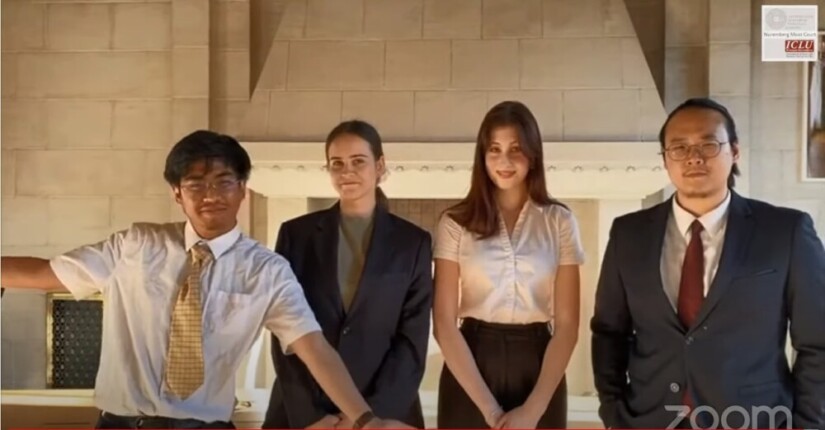 UGM law students Dylan Jesse Andrian and Fikri Fahmi Faruqi were declared the winners of the 2022 Nuremberg Moot Court. Dylan also scooped the Best Speaker award in this competition.
Both are double degree students at UGM and Maastricht University. Together with colleagues Ekaterina Fakirova and Nicole Binder from Maastricht's European Law School, they beat hundreds of great teams from 45 universities in 41 countries.
"We are thrilled to have sealed the win. Months of preparation paid off," said Dylan on Monday (8/8).
The Nuremberg Moot Court is an international moot court competition held in English in Courtroom 600 of the Nuremberg Palace of Justice, where major Nazi war criminals are tried for crimes against humanity, peace, war, and genocide. Due to health and safety concerns regarding COVID-19, the competition took place online this year.
Dylan said each team was required to write a motivation letter in the initial round of the competition. The selection committee will review each application and decide which teams qualify for the Written Memoranda.
The top 50 will then proceed to the oral round to present their cases before judges experienced in relevant legal areas, such as international human rights law, international criminal law, and international humanitarian law.
The Nuremberg Moot Court usually raises issues related to the substantive and procedural aspects of international criminal law each year. These cases revolve around crimes under Article 5 of the Rome Statute, i.e., genocide, crimes against humanity, war crimes, or crimes of aggression and responsibility for those crimes under Articles 25 or 28 of the Rome Statute.
Author: Ika