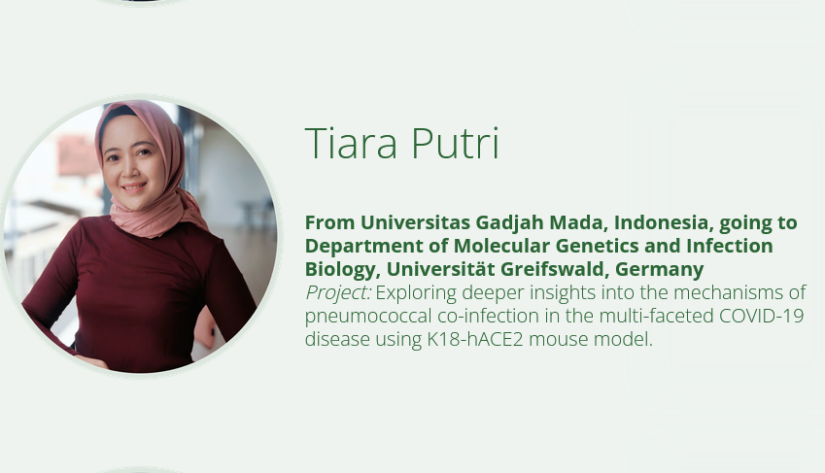 UGM doctoral student Tiara Putri has been named 2022 Bayer Foundation Fellowship Awardee in Drug Discovery. Tiara is a double degree student and will conduct part of her research at the Department of Molecular Genetics and Infection Biology, University of Greifswald, Germany.
Tiara will dig more into Streptococcus pneumoniae co-infection in children infected with COVID-19, receiving supervision from Dean of the Faculty Biology Prof. Budi Setiadi Daryono and Professor for General and Molecular Genetics at the University of Greifswald Sven Hammerschmidt.
More specifically, in collaboration with the Eijkman Institute for Molecular Biology, Tiara will look into the mechanisms of this bacterial-viral co-infection and the presence of S. pneumoniae in the upper respiratory tract of these children.
It is known that several opportunistic bacteria (inclusive of S. pneumoniae) in the upper respiratory tract play a part in patient morbidity rates. In previous influenza pandemics, S. pneumoniae was the most common bacterium in patients who died of pneumonia.
Indonesia is a country with the 6th largest pneumonia sufferer in the world, but data on the spread of pneumococci in Indonesia is still minimal.
"As researchers, we need to develop knowledge through research that targets the future of our children," she explained on Friday (12/8).
Author: Desy