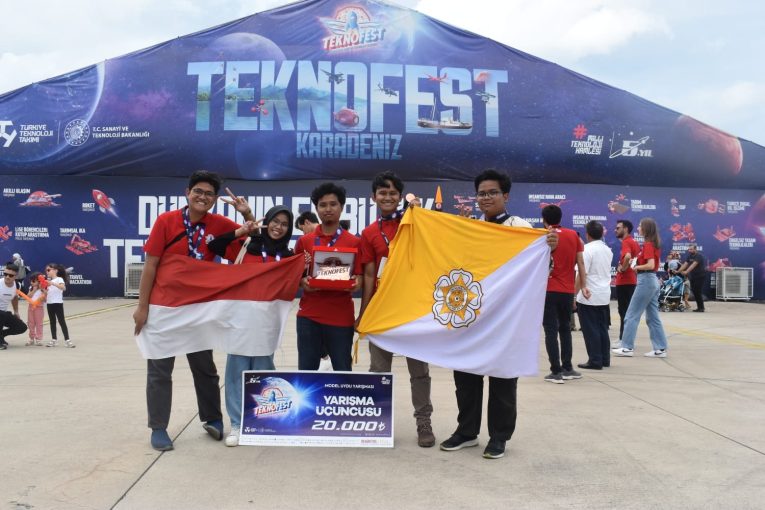 Gadjah Mada Aerospace Team (GMAT) has taken third place in the 2022 Teknofest's Model Satellite Competition, Turkey's first and only aerospace and technology festival. The team crafted a biquad antenna satellite model with a separation system like no other.
Teknofest hosts various technology competitions, air shows, concerts, interviews on wide-ranging topics, and events, all of which are held across Turkey.
The Satellite Model Competition challenges students to engage in an end-to-end process from designing to launching a small-scale space system project. This year, the Competition took place in Aksaray from 22 to 25 August, attracting dozens of teams worldwide.
Delegates Kokoh Islam Santoso (Engineering), Delavito Bintang Mahaputra (Engineering), Devina Reva Kusuma (Mathematics and Natural Sciences), Wahyu Afriza (Mathematics and Natural Sciences), Bara Ananada Wima (Mathematics and Natural Sciences), and Nur Atika Salsabilah (Engineering) were sent to the Competition.
"We feel very grateful and proud of this achievement. Alhamdulillah, the efforts that we have put in for eight months have paid off," said Kokoh.
Head of Sub-Directorate for Student Creativity Dr. Suherman congratulated the team's success in the Model Satellite Competition. Besides GMAT, UGM's flying robot team Gamaforce also took part in the festival's drone competition and made it into the top 15 of the 400 competing teams.
"Congratulations! These two teams not only represent UGM on the global stage but also Indonesia," said Suherman.
Author: Ika