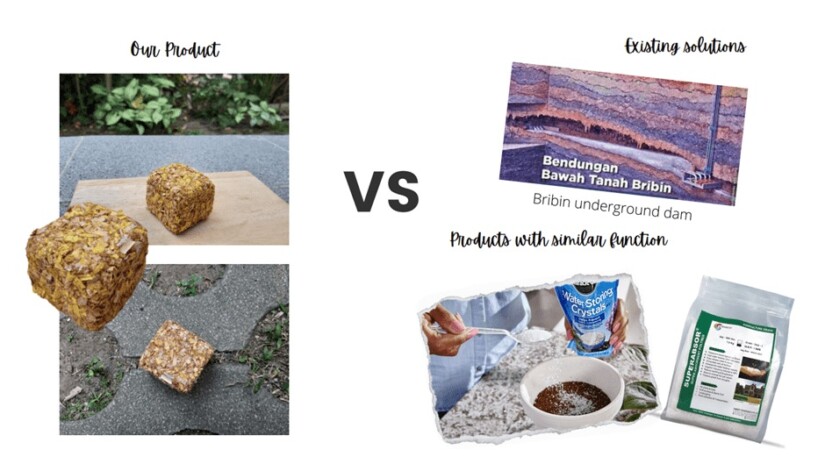 The UGM Gama Future team has taken home the top prize of 100,000 THB from the Circular Innovation Challenge 2022. The team competed in the Water, Sanitation, and Hygiene category, proposing Hydro Cubes to improve the soil water holding capacity in Gunungkidul, Yogyakarta.
In Gunungkidul, the groundwater table can reach 60-120 m below the land surface. Drought often occurs in this karst area because the soil has a low water holding capacity. It becomes severe in the dry season, affecting the growth of the corps and 129,788 people out of a total 772,983 population.
Hydro Cubes can absorb and store water (from rainwater or watering) in the topsoil. It serves as water storage for plants in the absence of rain or watering. One square meter of (agricultural) land requires about 10-20 cubes.
"We use industrial waste wood as the main material for our product, taking into account usability, availability, sustainability, and cost aspects. This innovation can solve two problems at once: drought and wood waste," said Ryan Fariza Akmal on Wednesday (28/9).
Ryan was joined by other Engineering colleagues, Aizna Syachkalita, Abdul Fattah Bima Rizqi Purwanto, and Zahra Aisya Rosa Febriyaningtyas.
The Circular Innovation Challenge is organized by The School of Global Studies, Thammasat University, Thailand, and targets participants from Southeast Asian countries, Thailand, Cambodia, Indonesia, the Philippines, Vietnam, and Malaysia.
The competition starts with ideation bootcamp on 9-10 July 2022, idea submission on 23 July 2022, and ends with alumni showcase, mentorship, and pitching on 6-7 August 2022.
Author: Desy