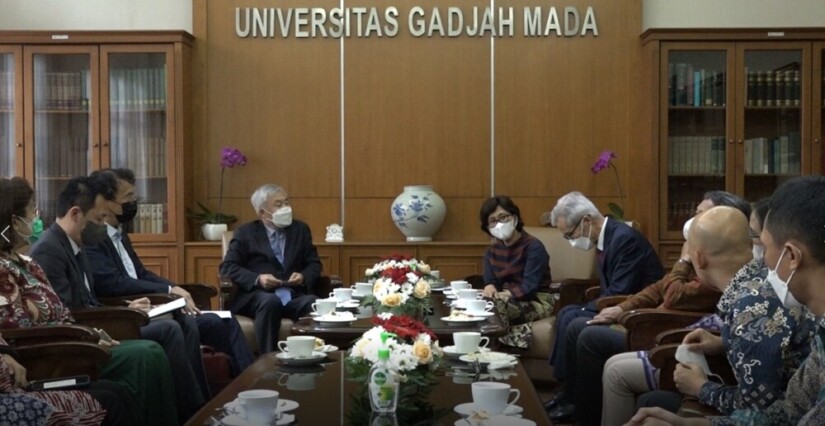 The Rector of UGM, Prof. Ova Emilia, received a visit from the Ambassador of the Republic of Korea to ASEAN, Kwon Hee-seog, at Universitas Gadjah Mada on Friday (21/10). The visit was to enhance existing cooperation and expand ties in new areas.
UGM has partnered with 24 universities, one company, one foundation, and one research center in South Korea in student, lecturer, and researcher exchange programs, research collaborations, seminars, and workshops.
From 2020 to 2022, 30 UGM students took part in exchange programs at several universities in South Korea. UGM also admitted 48 South Korean students in 2020 and 42 in 2021.
Prof. Ova welcomed the idea of expanding cooperation between UGM and South Korea. Apart from culture, language, and politics, she hopes to open up more opportunities in other fields.
"UGM has translated various studies into products, some of which are in the fields of health technology, herbal medicine, and others," said Prof. Ova.
The Ambassador said the COVID-19 pandemic had reduced the number of exchange students. With the current pandemic under control, he hopes more South Korean students can join the exchange program at UGM and vice versa. He also seeks to establish more cooperation with ASEAN countries, including Indonesia.
"We hope to develop a double degree program in the future," said the Ambassador.
Besides meeting Prof. Ova, Ambassador Kwon Hee-seog also delivered a lecture at the Faculty of Cultural Sciences in celebration of the UGM Korean Day held on 20-21 October 2022.
Author: Ika