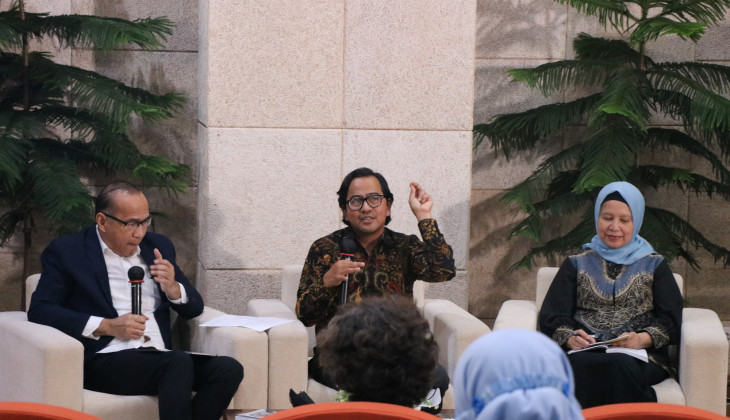 UGM Faculty of Medicine, Public Health, and Nursing and Australian National University (ANU) Indonesia Project launched a book called In Sickness and In Health: Diagnosing Indonesia on Tuesday (31/1).
In Sickness and In Health: Diagnosing Indonesia, published in November 2022, features 12 chapters by 26 academics from Indonesia and around the world. The chapters are sourced from papers for the 38th Indonesia Update held in Canberra by the ANU Indonesia Project in September 2021.
Dean of the UGM Faculty of Medicine, Public Health, and Nursing, Dr. Yodi Mahendradhata, welcomed the effort to research and formulate evidence-based and mission-oriented health policy in Indonesia, which has been one of the cornerstones of his faculty.
He hopes this book can be a reference for academics in research and teaching and decision-makers in policy development at the central and regional levels.
"The UGM Faculty of Medicine, Public Health, and Nursing launches around 3-4 books or more in a year. This particular book is the result of cooperation between the UGM Faculty of Medicine, Public Health, and Nursing and the ANU Indonesia Project," he said. "We are grateful for the completion of the book, which was compiled during the pandemic."
In Sickness and In Health: Diagnosing Indonesia explores challenges in Indonesia's healthcare system. Despite improvements in the country's health in the last 60 years, Indonesia still has many chronic health problems. These issues include funding sustainability, governance, and unequal access to health services, which have become more apparent during the COVID-19 pandemic.
Due to demographic and socio-economic changes in recent decades, Indonesia has become one of the countries that deal with chronic non-communicable and degenerative diseases such as heart disease, cancer, and diabetes, in addition to infectious diseases, maternal health, and diseases caused by poor nutrition.
Dr. Firman Witoelar, one of the book's editors, explained that the ANU Indonesia Project has been organizing annual conferences regarding Indonesia since 1983, becoming the largest conference on Indonesia organized outside the country. The topics mainly focus on significant problems faced by the Indonesian people.
According to him, the discourse on health systems and services in Indonesia has become more frequent due to the pandemic, making it suitable to be a conference theme. A commonly used approach in analyzing population health issues is the epidemiological transition, which is the shift from the dominance of infectious diseases contracted by toddlers and children to non-communicable and degenerative diseases that occurred in the elderly population due to changes in economic and social status.
Dr. Ariane Utomo from the University of Melbourne said that the book's approach was through a health transition lens. In addition to the epidemiological transition (changes in patterns of disease types, disability, and mortality rates), Indonesia also faces the question of how to systematically manage social responses to the health status of the community. Over time, despite the country's progress, the incidence of communicable diseases remains high in parallel with the rise in non-communicable diseases.
"AIDS and SAR-COV-2 are examples of infectious diseases that have a high incidence even in developed countries," Dr. Ariane said.
Prof. Laksono Trisnantoro from UGM wrote in his chapter on the huge BPJS Kesehatan (universal health coverage for Indonesian citizens) deficit of around 31 trillion rupiahs between 2014-2019. The deficit was caused by, among others, low compliance in paying contributions. Only about 56 percent of participants paid contributions, while the claim ratio reached 300 percent.
Treatments for chronic diseases such as cardiovascular disease, kidney disease, and cancer cost highly, whereas the budget allocation for prevention efforts is relatively low.
"So, how can Indonesia overcome this deficit amid the government's limited financial capacity to invest in health?" Prof. Laksono said.
In this book, Prof. Laksono, an expert staff at the Minister of Health, provides recommendations, including involving the private sector in developing the health system. He imagines that in the future, BPJS Kesehatan will focus on essential standardized health services, while high-tech health services will be carried out with the private sector.
In the midst of unfavorable situations, innovations in the health sector were uplifting news, as Prof. Adi Utarini said. In this book, she revealed the story of her 10-year-long research on hemorrhagic dengue fever, an often deadly disease in Indonesia.
"The innovative approach taken by the research team from the World Mosquito Program Yogyakarta is by injecting Wolbachia bacteria into dengue virus-carrying Aedes mosquitoes," she said. "Wolbachia prevents the virus from replicating inside the mosquito. So, when Wolbachia-carrying mosquitoes bite humans, they will not contract dengue fever. It is like a vaccination for mosquitoes."
Author: Agung Nugroho