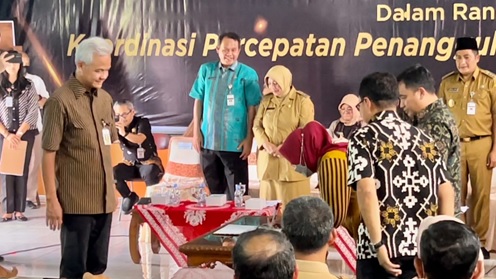 Universitas Gadjah Mada (UGM), represented by the Faculty of Agriculture, has joined the Central Java Provincial Government and Central Java Regional Development Bank to accelerate the province's fight against childhood stunting and malnutrition.
The pilot project's launch was marked by a symbolic giving of fortified rice by the Governor of Central Java, Ganjar Parnowo, to a representative of pregnant women suffering chronic energy deficiency (CED) in Magelang on Tuesday, January 31, 2023.
Such a response is to deliver the Global Nutrition Targets 2025 to reduce 40% of stunted toddlers by 2025 and targets of the Sustainable Development Goals, one of which is to eliminate all forms of malnutrition and meet the nutritional needs of adolescent girls, pregnant and lactating mothers, and the elderly by 2030.
Stunting remains a significant health issue in Indonesia. Data from the Asian Development Bank showed that stunting prevalence in Indonesia reached 31.8%, becoming one of the highest in the ASEAN region. This figure is even higher than the stunting average in ASEAN of 27.41%.
In Central Java alone, the prevalence of stunting in children under five was 20.8% in 2022. The five districts sitting at the top are [1] Brebes District (29.1%), [2] Temanggung District (28.9%), [3] Magelang District (28.2%), [4] Purbalingga District (26.8%), and [5] Blora District (25.8%). The provincial government aims to lower the rate to 14% by 2023, one year faster than the national target.
Vice-Dean for Research, Community Service, and Cooperation of the Faculty of Agriculture, Dr. Subejo, said that one of the strategies deemed quite effective in accelerating response to childhood stunting is providing fortified rice to the community as a form of a specific intervention. Fortification refers to adding fortified rice kernels containing vitamins and minerals to regular rice.
According to the Vice-Dean, UGM will integrate stunting reduction into the university's strategic programs, such as thematic SCS-CEL programs and Village Building and Internship programs of the Freedom to Learn, Independent Campus (Merdeka Belajar Kampus Merdeka).
Field lecturers will provide intensive student education and monitoring for five months at the pilot project sites. Other support from the university includes products translated from research and innovation as well as laboratory facilities.
The expertise of the multidisciplinary lecturers and researchers from the university is expected to increase the effectiveness of the program's interventions and drive them faster.
Subejo hopes the integrated stunting handling program between the provincial government, Central Java Regional Development Bank, UGM, private corporations, and the community can significantly diminish stunting and malnutrition in children in Central Java.
Author: Ika