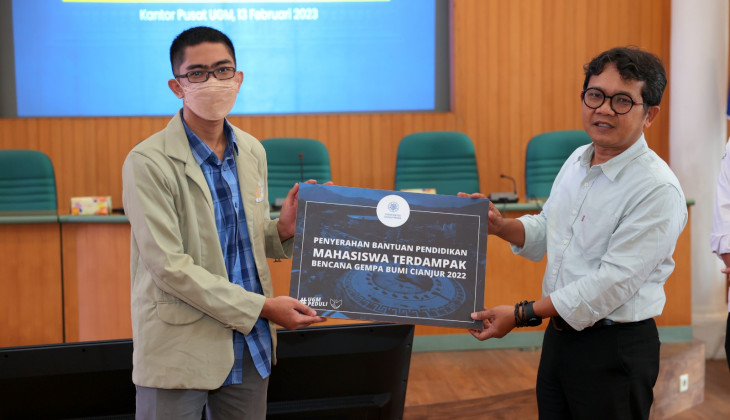 UGM has provided financial assistance to several UGM students affected by the earthquake that struck Cianjur, Indonesia, on November 21, 2022. Previously, the university had sent its Disaster Response Unit (DERU) to Cianjur to assess the quake's impact on November 25.
"I would like to thank UGM for their attention and care for us. In early December, the DERU team visited our house and provided basic supplies as well," said Putri Azahra Prawira, one of the recipients from UGM Vocational College.
The assistance provided amounted to Rp36 million and was given to nine students, with the value of the aid adjusted to the impact experienced by each family.
"This is very meaningful for us and our journey through education. As a representative of UGM students from Cianjur and on behalf of the Cianjur community, I thank UGM for this assistance," Putri added.
Vice-Rector for Student Affairs, Community Service, and Alumni, Dr. Arie Sujito, who represented UGM in the aid delivery on Monday (13/2), said the aid was a concrete manifestation of UGM's solidarity and commitment to supporting the students during their education at UGM.
"UGM is part of the nation's strength; hence human values are in it. Our big mission is not only to produce knowledge that is intellectually beneficial for society but also to mobilize strength and encourage values in favor of society," he said.
Arie explained that UGM has long been involved in mobilizing forces to respond to disasters in various regions during the emergency response and recovery phases.
"Hopefully, it will be useful. We hope the affected students can rise above adversity and keep their spirits up. UGM will help if there are difficulties or they need solutions," he said.
Author: Gloria
Photographer: Firsto