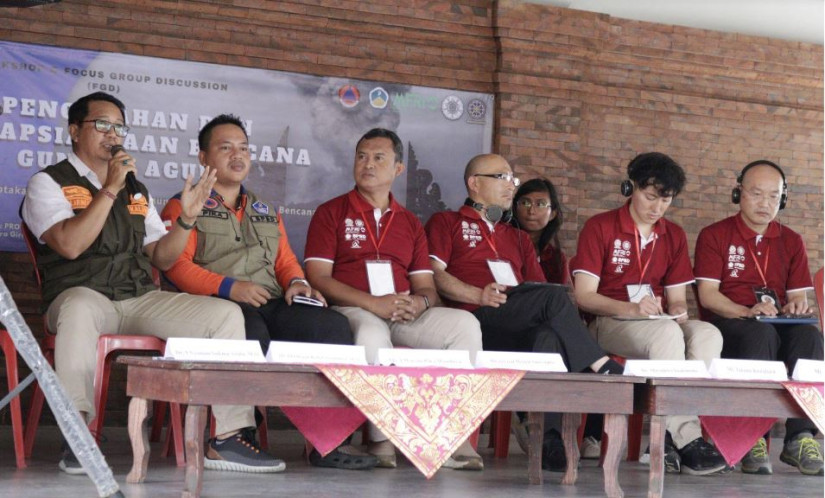 UGM and Mount Fuji Research Institute, Japan, are working together to increase community awareness and preparedness in facing the potential hazards of Mount Agung's eruption.
Together with other relevant stakeholders, the two institutions held a focus group at Besakih Village Office, Karangasem, Bali, on February 11, 2023. The discussion is part of the Astungkara Giri Agung Aman (AGAA) project funded by the Japan International Cooperation Agency (JICA) under a grassroots project scheme that will last until early 2025.
Dr. Wiwit Suryanto, a lecturer of the UGM Faculty of Mathematics and Natural Sciences joining as one of the geophysicists in this project, explained that Mount Agung was chosen as part of this project because it had experienced an eruption in 2017. Although there were no casualties, the blast caused economic and tourism losses.
"The focus is to instill preparedness for volcanic hazards from an early age to elementary school students through science and technology-based volcanic disaster education," said Dr. Wiwit on Wednesday (15/2).
Mitigation will involve Mount Fuji Research Institute in Yamanashi Province, NPO Volcano in Tokyo, and Udayana University's Faculty of Tourism to continue this education after this project ends.
"This 3-year project with 54 million yen funding will allow stakeholders and teachers in Bali to learn volcano disaster mitigation in Japan," he explained.
In Japan, disaster risk education is included in the curriculum of elementary to high schools. Every related party has a clear SOP and complies with it to prepare citizens for disasters. The government also provides disaster pocketbooks that people can easily access anytime.
As for mitigation in Indonesia, it is slightly different from that in Japan. In Indonesia, because people on the slopes of volcanoes are farmers and ranchers, evacuation must include livestock and pets in addition to humans.
"Otherwise, at critical times, people tend to return to their homes in the danger zone to feed their livestock, which results in increased chances of becoming victims," he said.
Wiwit added that previously, disaster mitigation from the Japanese government had been conducted in nearby settlements in Mount Merapi. Mount Merapi was chosen because it is one of the most active volcanoes in Indonesia, and there is a sister province cooperation between Yogyakarta and Yamanashi, where Mount Fuji is located.
"This activity resulted in the formulation of disaster mitigation activities that are expected to be included in the curriculum of science subjects in elementary schools so that this program can reach other volcanoes in Indonesia," he said.
Communities around volcanoes in Indonesia already have local wisdom in disaster mitigation. Still, this activity is expected to strengthen people's understanding and scientifically educate them about volcanic eruption detection using sensor technology.
"We know that eruption sensors were entrusted to the changing behavior of animals and certain figures that had certain abilities in the past. In modern times, we are assisted by sophisticated sensors such as seismometers to detect vibrations and GPS to detect ground movement due to the rise of magma from inside the volcano," he concluded.
Author: Gusti Grehenson