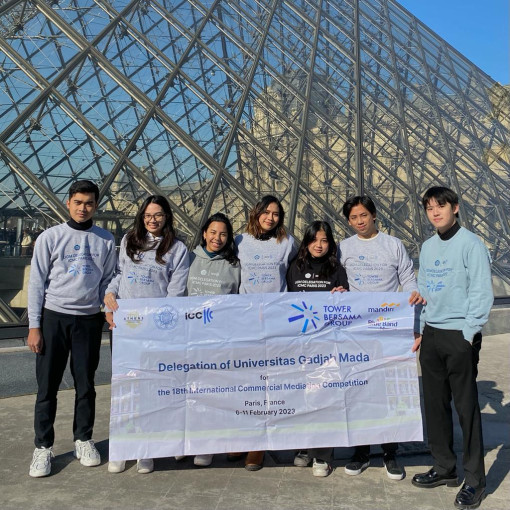 Seven UGM Faculty of Law students have been named the top 5 winners of the 18th International Chamber of Commerce – International Commercial Mediation Competition (ICMC). The competition took place in Paris from February 6-11, 2023, and the winners were announced on February 17.
The ICC Mediation Competition brought together more than 350 students, coaches and 150 professional mediators, and academics worldwide. The competition challenged 48 teams worldwide to resolve international business disputes through mediation.
The students were Kharisma Insani Wibawa, Joy Aaron Tirtha, Olanda Naomi Adhira, Matthew Hedy Tanoto, Raisa Madeleine Pantouw, Arifitra Miftahuda Rambe, and Aliyya Azziza Nabila Saelan. Previously, they achieved 8th place in 2021.
"I think the ICMC hosted by the International Chamber of Commerce is the most prestigious. So if we want to get a ranking or anything, this is the most interesting branch of the competition," said Aaron on Sunday (19/2).
Olanda added that they were interested in this mediation competition because the topics presented revolved around business, which is their study concentration. The team has been preparing since September 2022. They admit that it took a lot of effort to find practice time due to scheduling conflicts among team members.
"Most of our team members are doing internships, and most live in Jakarta, so all training is done in Jakarta. Ideally, a competition like this should have a quarantine for its members," said Olanda.
As a result, the team only had the opportunity to quarantine when they flew to Paris, where they gathered in person and focused on preparing for the competition. The group said that consistency, discipline, and ambition were key to their success in the competition.
"Besides preparing well, we also knew the topic from the start and tried to be consistent in our training. We still can't believe we made it to the top five because the other universities were equally great. Most of them are older than us and have Master's degrees," said Kharisma.
Author: Tasya
Photo: Rosita W