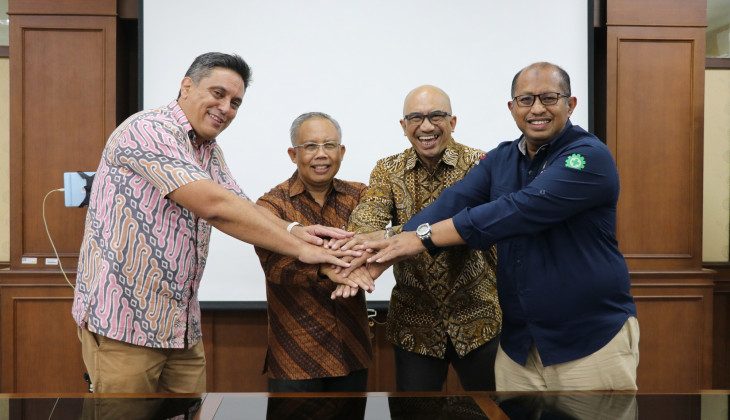 Researchers from the UGM Faculty of Mathematics and Natural Sciences have joined PT Geo Dipa Energi and a team of experts from Geoflow Imaging Ltd from New Zealand in the development of technology that can detect geothermal resources more precisely.
This new technology is claimed to be tested for the first time in geothermal areas in Ciwidey, West Java.
Dean of the Faculty, Prof. Kuwat Triyana, said the cooperation aimed to support geothermal energy exploration using a system developed by a team of experts from UGM in collaboration with a team from New Zealand.
"There is a new technology developed by UGM, New Zealand, and experts from the US and UK. This new concept can map the position of geothermal resources more detailed and accurately," he said.
One of the researchers, Dr. Wiwit Suryanto, added that the technology, Geoflow Imaging, utilized jet fuel sources to produce energy with high speed, but still below the speed of sound that propagates through the Earth's medium to be recorded by hundreds of seismometer arrays on the surface.
"We put the propellant underground, and the signal is recorded on the surface. Like roentgen, the propellant produces vibrations that help the accuracy before drilling," he said.
According to Wiwit, the technology can be adopted worldwide if the trial is successful and proven effective in determining more accurate geothermal well drilling targets.
"This is the first time we will do it. In New Zealand, the concept has been completed, the theory and even models and simulations have been carried out, but no field tests have been taken," he explained.
Wiwit added that the trial of this new geothermal drilling technique is still at risk of failure. However, it has been proven successful from concept to modeling, so he is optimistic that the field test will be the same.
"If this is successful, exploration companies will no longer have to drill many speculative well targets because they already know the accurate ones," he explained.
CEO of Geoflow Imaging Ltd, Graeme Saunders, welcomes the UGM researchers in the field test of this new technology. He hopes UGM will become a leading campus in mastering the science and technology of geothermal energy exploration.
The Director of Business Development and Exploration of PT Geo Dipa, Yudistian Yunis, said that his party opens opportunities for academics to research geothermal energy exploration systems.
"We want more researchers and students to research geothermal energy that we do, and we are open to sharing data as widely as possible for academic purposes," he said.
Author: Gusti Grehenson