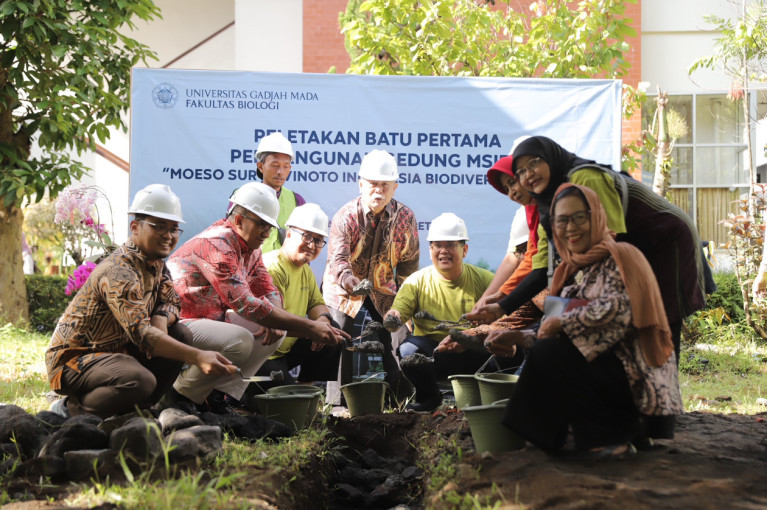 The UGM Faculty of Biology held a groundbreaking ceremony for the construction of the Moeso Suryowinoto Indonesia Biodiversity Center (MSIBC), a laboratory to preserve the genetics of rare and endangered flora and fauna in Indonesia.
Some of the genetic resources that will be maintained are komodo dragons, birds of paradise, rafflesia, and various of the country's endemic flora and fauna.
At the faculty's 68th-anniversary opening on Friday (10/3), the faculty's dean, Prof. Budi Setiadi Daryono, shared that the construction of this laboratory will be completed within 5-6 months, and it will be inaugurated at the UGM Biology Anniversary ceremony on September 19.
The three-story building will use biometric and tissue culture technology that has been applied to preserve orchids native to Indonesia.
"Orchids have been studied for more than 40 years. Now there are many biodiversities of flora and fauna, including microbes and viruses. We will study various flora and fauna endemic to Indonesia," he said.
The laboratory was designed to resemble an orchid seed. It was named after Professor Moeso Suryowinoto in recognition of his dedication to faculty development and orchid conservation in Indonesia in the 1970s.
"We built this laboratory on the land of the former tissue culture laboratory established by Prof. Moeso. We want to commemorate his services by naming this building after him," he said. "We are also working with a metaverse company to develop science and technology so that this lab can later be used for research, collaboration, and synergy."
UGM Vice-Rector for Research, Business Development, and Cooperation, Ignatius Susatyo Wijoyo, appreciated the commencement of the construction of the laboratory named after Professor Moeso.
"Prof. Moeso is known as the father of orchids and is now succeeded by Prof. Endang, who we can call the mother of Indonesian orchids," he explained.
Ignatius added that Indonesians should be proud because, until now, our country still has abundant biodiversity amidst the declining world biodiversity.
"About one million plant species are threatened with extinction, and so are marine biota due to uncontrolled exploitation, pollution, and land conservation," said the vice-rector.
Author: Gusti Grehenson
Photographer: Donnie Tristan