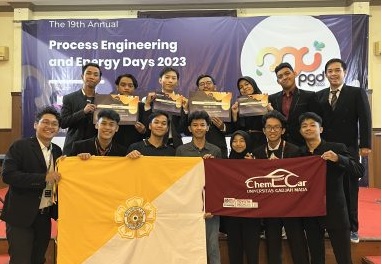 Reactics Chem-E-Car UGM has been crowned champion of the Chemical Engineering Car League (CIRCLE) at the Process Engineering and Energy Days 2023 hosted by Universitas Indonesia.
Of the two teams sent by UGM, Reactics Janaka and Reactics Rahwana, Reactics Janaka managed to bring home the top prize, while Reactics Rahwana was presented with Best Presentation.
Reactics Janaka team captain, Yehezkiel Marco Natanael, explained that PGD UI is a competition focusing on problem-solving around the energy and chemical industry. The competition was attended by students from various universities in Indonesia and brought together nine teams in this year's final.
"This year, Reactics presented car designs to represent Universitas Gadjah Mada at PGD UI 2023, and the two teams sent won first place and best presentation," he explained.
Marco said the Janaka and Rahwana teams followed a series of selections starting from the file selection stage by sending Job Safety Analysis (JSA) files and other additional information files for each car. After passing the file selection and being declared finalists, both teams were dispatched to the competition on Wednesday, March 8, 2023.
Marco (Chemical Engineering) is joined by Mikael Bagastama Jatinitiraga (Chemical Engineering), Muhammad Akbar Ariffandi (Chemical Engineering), Muhammad Husein Hartanto (Mechanical Engineering), Armando Rizky Nugroho (Electronics and Instrumentation), and Novia Safitri (Chemical Engineering).
On the other hand, Reactics Rahwana is captained by Ignasius Ivan Setiawan (Chemical Engineering) and has William Santoso (Chemical Engineering), Jinan Hasna Vivian Naya (Chemical Engineering), Muhammad Hasbi Aminudin (Mechanical Engineering), Muhammad Rizqi (Mechanical Engineering), and Alfian Noor Maulana Firdaus (Chemical Engineering) as members.
Ignasius added that the achievement resulted from hard work and team cohesiveness. Their success was also made possible by the support of the faculty, university, partners, and supervisors, namely Dr. Budhijanto, Addin Suwastono, Mokhammad Fajar Pradipta, and Dr. Robertus Dimas Dhewangga Putra.
"Hopefully, Reactics Chem-E-Car UGM can continue to thrive and be driven to win many other competitions that can make the alma mater and Indonesia proud globally," he said.
Author: Ika
Photo: Reactics Chem-E-Car