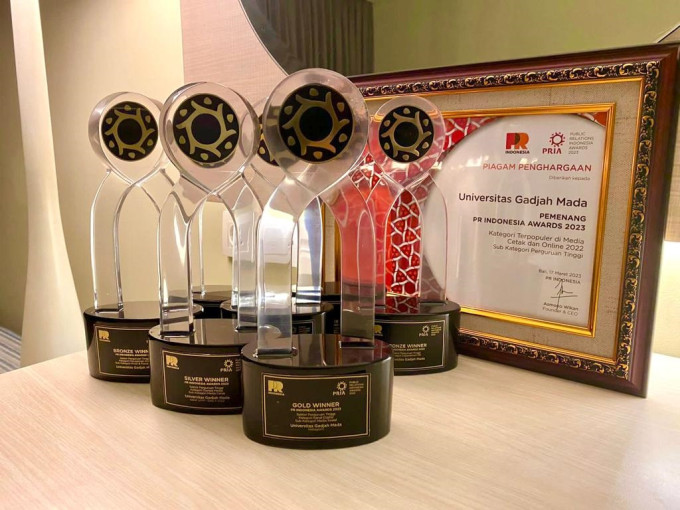 Universitas Gadjah Mada (UGM) has taken home multiple awards at the 2023 Public Relations Indonesia Awards (PRIA).
In addition to receiving the most social media honors in the higher education sector, UGM was also named the winner of the Most Popular University in Print and Online Media in 2022. The awards were received by UGM in an award ceremony on Friday (17/3) in Denpasar, Bali.
Head of UGM Public Relations and Protocol, Dr. Dina W. Kariodimedjo, expressed appreciation for the awards given by PR Indonesia to UGM. According to her, these awards motivate UGM Public Relations and Protocol to publish more achievements, research results, and community service activities conducted by lecturers and students.
"We are grateful that UGM received these awards. This is the result of all parties' hard work," she said on Saturday (18/3).
PRIA is part of PR INDONESIA's commitment to appreciating excellent public relations (PR) performance from corporations, ministries, institutions, and local governments throughout Indonesia. PRIA reflects the highest achievement of corporate/organizational communication performance held annually.
This year's total entries reached 836 from 236 institutions or an increase of 6.4 percent compared to PRIA 2022. The competition involves 16 judges from PR practitioners, journalists, and academics.
The following are the awards received by UGM:
The Most Popular University in Print and Online Media
Bronze Winner for PR Department
Gold Winner for Digital Channel (Instagram)
Silver Winner for Digital Channel (TikTok)
Bronze Winner for Digital Channel (YouTube)
Bronze Winner for Crisis Management (Crisis and Post-Crisis)
Silver Winner for Owned Media (Print Media), entry: Kabar UGM Magazine, 2nd Edition of 2022
Bronze Winner for CSR Program (Sustainability Business), entry: the Student Community Services – Community Empowerment Learning (SCS-CEL) program
Author: Gusti Grehenson