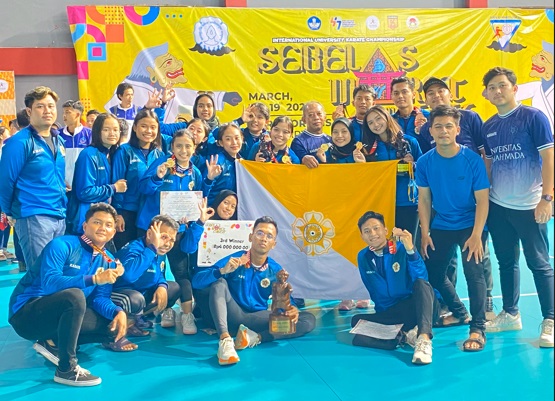 UGM Karate INKAI Unit has won the 3rd Overall Champion title at the International University Karate Championship Sebelas Maret (SEMAR) CUP XII on March 17-19, 2023, at Sebelas Maret University, Solo.
The unit collected two gold medals and one bronze medal. The gold medal was won by Alifa Milanisty in the women's individual kata category, while the bronze medal was won by Nur Kusumaningati, Berlian Antya F, and Kenya Azzahra in the women's team kata category.
Aufa Raja S, Bagas P, Afdhil Khalid, Muhammad Luthfi, and Abel Duanda R, who competed in the men's team kumite category, picked up the bronze medal.
Karate Chairperson Afina Putri Kusumadewi said that UGM sent 23 athletes to compete in eight classes. She added that this success could not be separated from the hard work, team cohesiveness, and support from the supervisors and university leaders.
"We are proud of the achievements of UGM Karate athletes. Hopefully, they can continue to excel in other championships to make UGM proud," she said on Friday (24/3).
SEMAR CUP XII was attended by 380 athletes from 45 contingents of universities in Indonesia and Brunei Darussalam. The competition consisted of two categories, kata and kumite.
In the kata category, athletes competed to display beautiful, technical, and athletic karate movements, while the kumite category challenged athletes to fight each other.
Author: Ika
Photo: Karate Unit