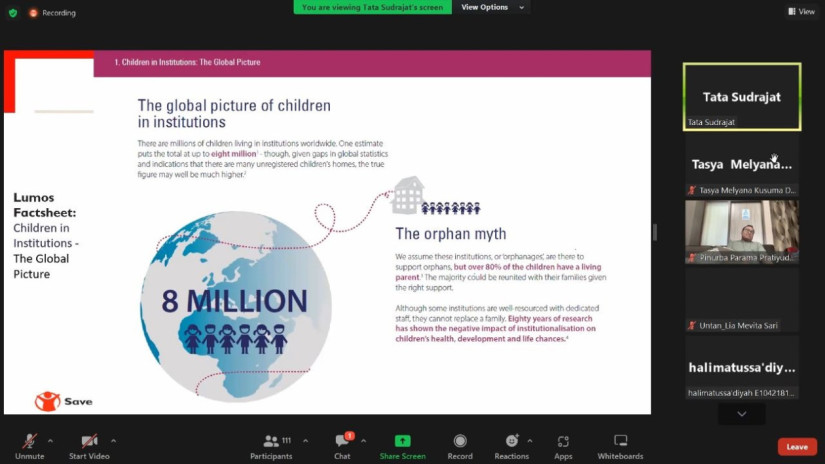 The UGM Department of Social Development and Welfare and Save The Children Indonesia talked about child parenting in Indonesia in the Social Development Talks webinar series on Saturday (12/5).
Deputy Chief of Program Impact and Creation of Save The Children Indonesia, Tata Sudrajat, said the current childcare culture in Indonesian families generally emphasizes the role of the mother. In fact, the part of fathers is no less essential to support children's growth and development.
"When a father is involved in helping his children, it turns out that children progress faster. Physically, fathers can support all children's needs quickly. I think this has a big influence," he said.
Research by Save The Children Indonesia on children with disabilities shows that children's development accelerated better with the role of fathers.
"If we look more broadly, Indonesia has a tradition of family-based care. The question is, has this tradition shifted? Maybe it has because there is a process of differentiation from the extended family to the nuclear family," said the deputy chief.
According to him, this cultural shift is not only in the issue of children but also in the care of older adults. The role of relatives is quite influential in repairing nuclear family dysfunction. A survey found that around 2.15 million children aged 15 and under do not live with their parents.
"I think this is interesting. The question is, do grandparents, especially those with low income, get help from the government? I've heard from the Ministry of Social Affairs; they said there is no assistance aimed at grandparents who care for their grandchildren," he added.
In addition to family childcare issues, Indonesia has the highest number of children in orphanages in the world.
"A 2007 study found that 500,000 children live in 8,000 orphanages. This is the highest number in the world," said Tata Sudrajat.
The study also found that 90% of orphanage children have two complete parents. They are there mainly because of poverty, not because they lost their parents. Sudrajat explained that the claim of orphanages as a place for orphans is allegedly to foster compassion in society.
"The inability of parents to provide for their children has shifted the role of orphanages. Children may be able to get a formal education, but what about the care? Research shows that there is no nurturing there, only guidance," he added.
According to him, today's society must understand what parenting really is. Raising a child requires love, attachment, livability, safety, and well-being that is permanent and sustainable until the child grows up.
Author: Tasya