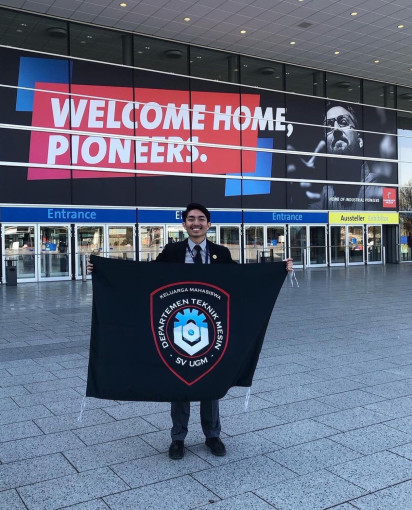 Mahesa Audriansyah Agatha, a Department of Mechanical Engineering student at UGM's Vocational College, represented an R&D company where he interned, Stechoq Robotika Indonesia, at 2023 Hannover Messe.
This prestigious industry exhibition took place over six days from April 16-21 in Germany and was attended and opened by President Joko Widodo of Indonesia. Mahesa joined Stechoq Robotika Indonesia as an intern through the government's Certified Internship and Independent Study program. At Hannover Messe, Mahesa was assigned to showcase the first ICU ventilator by Stechoq, Venindo V-01.
"I feel grateful to pass the selection and participate in this international experience at the 2023 Hannover Messe," said Mahesa at UGM on Wednesday (17/5).
Stechoq involves students representing the company to allow students to experience the real global industry. The hope is that the selected students will be able to improve their thinking skills after participating in this program so that they can create global innovations that can support the progress and competitiveness of the nation.
During the pandemic, Stechoq, YPTI, Swayasa Prakarsa, and researchers from UGM Mechanical Engineering worked together to create an ICU ventilator after receiving input from an anesthesiologist who became an intensive care consultant at Sardjito Hospital Yogyakarta.
"Following the hospital's needs at that time, it was decided to make an ICU ventilator. During the research and development, Venindo V-01 was mentored by the Ministry of Industry," he explained.
It took six months for the team to make Venindo V-01, which was then tested at Surabaya Health Facility Safety Center (BPFK) and a clinical trial on patients in the ICU. Venindo V-01 has also received a TKDN certificate of 43 percent and is proposed to be registered in the e-catalog to facilitate procurement in the government's import substitution program.
"The clinical trial involved 12 ICU patients, and we finally obtained a distribution license from the Ministry of Health. We all hope that the Indonesian people can use Venindo V-01," he explained.
Mahesa added that Venindo V-01 had a competitive advantage compared to other ventilators on the market. Venindo V-01 has seven ventilation modes that can support patients in critical conditions in the ICU to patients in weaning states, while others can only perform CPAP mode.
"We can say that Venindo is the first ventilator in Indonesia that has the most superior features compared to others," Mahesa said.
Author: Agung Nugroho