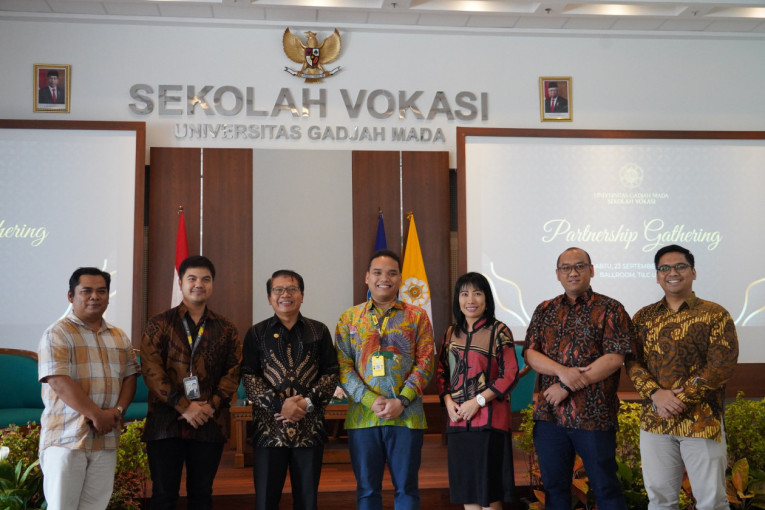 Forty-eight partners participated in the 2023 UGM Vocational College Partnership Gathering at the Teaching Industry Learning Center (TILC) building on Saturday, September 23.
The Dean of UGM Vocational College, Professor Agus Maryono, and the leadership of UGM Vocational College attended and mingled with the partners. 
Approximately 75 representatives from various companies and institutions attended the opening event of the gathering.
Dean Agus Maryono stated that the gathering activity was an effort to strengthen cooperation with partners. According to him, this activity is a form of camaraderie and concrete collaboration between UGM Vocational College and the industrial world.
"The goal of this collaboration is to foster camaraderie and concrete cooperation between UGM Vocational College and the business and industrial world so that what we do on campus can be applied in the industrial world," said Professor Maryono.
"These partners are friends who, along the way, contribute to advancing and progressing Indonesia's development."
Dr. Endang Soelistiyowati, Vice Dean for Cooperation and Alumni Affairs at UGM Vocational College, thanked the partners for supporting UGM Vocational College students.
"Thank you to our partners who have collaborated with UGM Vocational College and contributed to the holistic development of our students," she said.
After various ceremonial events, the 2023 Partnership Gathering continued with discussions, the presentation of cooperation testimonies, and the signing of cooperation documents. 
Several partner representatives expressed their delight at being invited to attend the UGM Vocational College Partnership Gathering. They expressed enthusiasm for establishing more cooperation with UGM Vocational College.
The event concluded with a lunch and a friendly gathering between partners and the academic community of UGM Vocational College while visiting the exhibition of the college's flagship products.
Author: Agung Nugroho