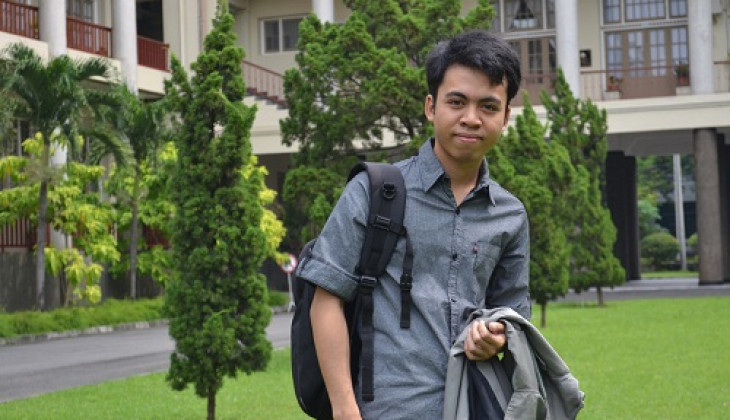 YOGYAKARTA – Winner of International Mathematics Olympiad in Bulgaria for three consecutive years, Made Tantrawan, 21, is the only cumlaude graduate with the perfect GPA of 4 during a graduation ceremony inaugurating 1.598 students of Universitas Gadjah Mada, Tuesday (21/5). The son of I Wayan Berata and Ni Ketut Kanten did not expect to earn the perfect GPA as he had one B in one course. Fortunately, the course was elective so he was able to omit it. He passed in 3 years 4 months, faster than the average. What's his secret?
Made said that he did not have a special formula except coming on time and listening well to lecturers. "In class, I understand lectures well. During exams, I just need to have a quick glance at the material. Made said he did not spend his time studying but he spent an hour a day to work on Olympiad exercises. "In my early days in college, because I would go for the Olympiad, I had already learned materials usually taught in semester 7. So, I had no difficulties when in semester 5, 6 or 7," Made's interest in Maths began when he was still in elementary school. His father, a math teacher, helped him in the subject. His first Olympiad was during his years in junior high school, representing Bali in National Science Olympiad. "Every time I participated in an Olympiad, I studied with my father to work on exercises," said Made. When he was in SMAN 3 Denpasar, Made reached the finals for two years in a row in the same competition, bringing him gold medal in the later.
Despite his love for maths, Made did not give less attention to other subjects. He always became the best student. As a student that had won a gold in the National Science Olympiad, Made was able to get admitted to Mathematics department of UGM in 2009 without having to undergo an entrance test. Now that he has graduated form the department, Made plans to continue the next level of education in master or doctoral programmes. Scholarships have been granted for him by Higher Learning Directorate to realise this dream after he had won a silver in Bulgaria in 2010, bronze in 2011 and silver again in 2012. "I would undertake my S2 programme at UGM," he concluded.