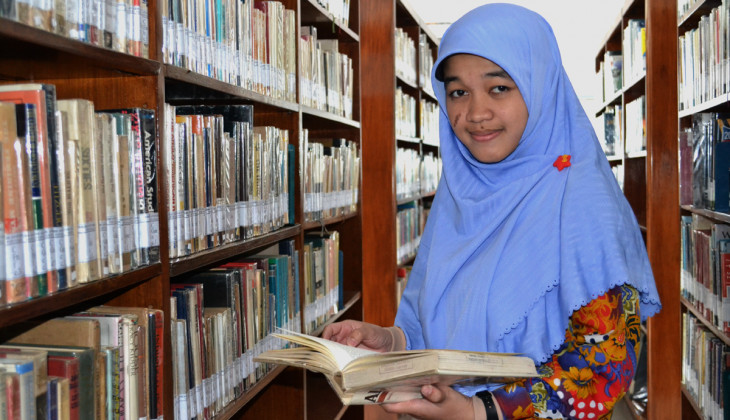 YOGYAKARTA – Student of Nursing study programme class of 2010, also recipient of Bidikmisi scholarship, Birrul Qodriyyah, is elected outstanding student of UGM 2013. The student from Jetis, Bantul, represents UGM in the national competition that will run in August. Birrul beat 22 other students through the Supercamp selection run by Mahasiswa Berprestasi (Kommapres) UGM and Directorate of student Affairs UGM from 19-21 April 2013.
Related to academic achievement, her GPA reaches 3.74 until semester 6. The daughter of Jawahir and Siti Mujahadah Sholikhah also made other achievements. In 3 year's time, she won 27 competitions from speech competition, scientific writing contest, Kor'an reading to poetry reading events. She said, "Since elementary school, I had won 41 competitions."
Birrul said that her participation in those events were because she wanted to get money to pay for her tuition. Her parents are farmers with income which is below Rp300 thousands per month. They find it hard to pay the tuitions for two children. When she needed to go to junior high school, they had to sell their belongings. "I seldom got pocket money. I could only buy a candy at the school canteen," she admitted.
No TV Watching
Their house in Puton hamlet, Bantul, is very simple, no TV set there - let alone motor vehicles. After the 2006 earthquake, the house has not been fully rebuilt.
Despite the simple condition, Birrul did not lack the spirit to realising her dreams. Instead, she participated in many competitions to help ease the burden of the family. If she could win it, the prize money can be saved to be used when necessary.
She learned how to give a speech from her teacher while Kor'an reading from her father. She learned by herself how to read poems and write. She won competitions gradually from sub-district level up to national level. The money she earned was spent for her schooling. She could afford a used motorbike after graduating from highschool with the money she had saved since elementary school.
Birrul also came first in SMPN 1 Jetis Bantul. Consequently, some parents asked her to give a private lesson to their children. This continued until she became an UGM student, which she did three times a week. Also, she teaches Kor'an reading in the neighbourhood. She could earn an additional Rp300 - Rp350 thousands a month. After being elected outstanding student, Birrul has received numerous invitations to give talks in motivation seminars at UGM and other schools.