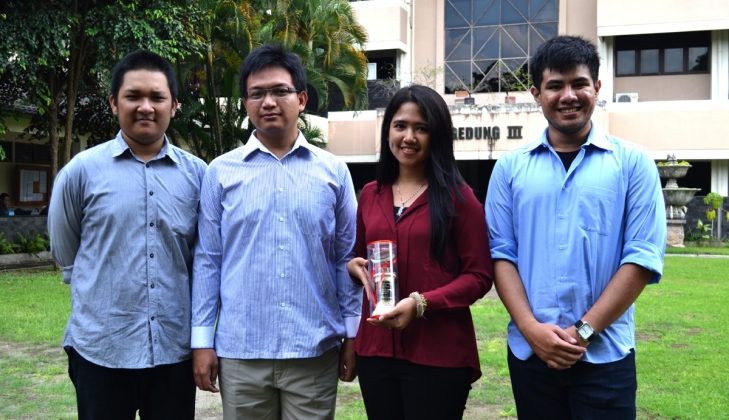 YOGYAKARTA – Four students of Faculty of Law UGM, Arif Foranto, Dimas Andri Himawan, Rachmi Dzikirna and Samuel Goldwyn Simangunsong, have earned the Fali Nariman Award, namely Honourable Mention for Best Memorandum on Behalf of Respondent in Moot Court Competition, The Tenth Annual Willem C. Vis East International Commercial Arbitration Moot, held in Hongkong from 11-17 March 2013. The most prestigious competition is followed by 93 teams from 53 states, including the U. S., China, Australia and Germany. Indonesia is represented by three teams from UGM, Universitas Padjajaran and Universitas Pelita Harapan.
"Samuel Goldwin Simangunsong has even been amongst 14 best oralists of all 199," said head of mentors, Heribertus Jaka Triyana, S.H., LL.M., M.A., on Thursday (30/5).
Heribertus said the success of UGM students in the international event proves their ability in legal skills is equal to others. "They have tried hard to achieve the best; thus, we should appreciate their achievement," he said.
CIMC member, Rachmi Dzikirna, said their achievement was due to their hard work for six months working on memorandum. They also spent time for research and argument as well as oral pleading exercise.
Samuel Goldwin Simangunsong expressed his pride after being elected among 20 best oralists. He said the ability to defend an argument was the key factor.