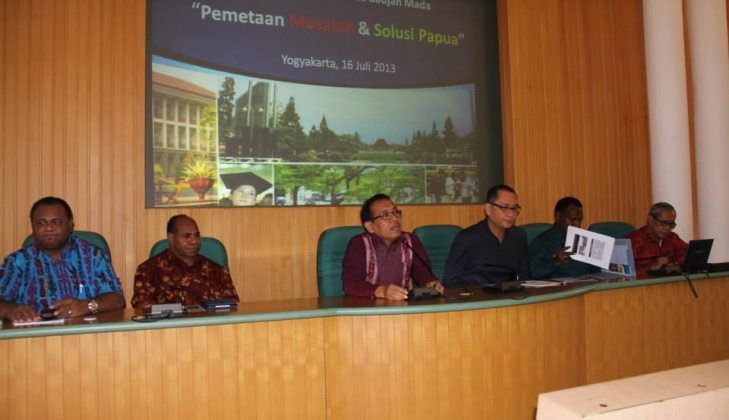 Papua is renown for its abundant natural resources. The rich resources, however, contradicts the poor condition of the local people. Over 80% of the population is poor or very poor. This adds to the isolated location of the region, particularly in areas with access to public services.
Transport and communication infrastructure is very much left behind as compared to that in other Indonesian regions. The price of basic neccesities is much more expensive than that in Jakarta or other cities outside of Papua.
Contribution of higher learning institutions is, therefore, a must. Their ideas is believed to be able to address the various problems that are usually due to economic problems and poverty.
That was said by Rector of Universitas Gadjah Mada, Prof. Dr. Pratikno, M.Soc., Sc, in a discussion of Working Group of UGM on Papua with the theme Mapping Problems and Solutions to Papua on Tuesday (16/7) in Multimedia Room of UGM Main Office.
"As a National University, a Cultural University, a University of Struggle and a University of Pancasila, UGM carries a big responsibility, because UGM not only belongs to the province of Yogyakarta Special Region, but is a representation of all regions of Indonesia," he said.
The Papua working group, Rector said, is a form of UGM care to underprivileged and isolated regions. With a comprehensive faculties, UGM can understand Papua through interdisciplinary approach.
"UGM not only established Papua but also regional working groups. We're currently enhancing Papua and border areas working groups and we're initiating those on food, energy and other strategic issues," he said.
Therefore, the attendance of Sorong Regent, Dr. Stephanus Malak, M.Si; Biak Numfor Regent, Yusuf Melianus Maryen, S.Sos, M.M; Puncak Regent, Willem Wandik, SE., M.Si, and expert staff to Papua Governor, Bangun Marpaung, in the discussion could give input to the working group.
Bangun Marpaung said the income index of Papua is the lowest as compared to those of other regions in Indonesia. He hoped for the formation of qualified education and human resource through free and qualified education. "We also send students for doctoral or master's programme," he said.
He further hoped for improvement of social and cultural lives, faith, women's role or gender, infrastructure development, and connectivity between regions, also residential settlement.
Marpaung said the big issue is to revise Law No 21 on Special Autonomy. The Law is very good, but it appears that it does not exist in application. Other issues are the agreement with PT. Freeport. Regent Willem Wandik similarly said despite the proximity of Puncak regency to PT. Freeport, the condition of the region is still poor and isolated.
Drs. Bambang Purwoko, M.A, coordinator of the Papua working group said the condition in Papua is very paradoxical; it is rich in natural resources but the people are poor. He said that all facts would be documented and discussions would be formulated for everyone concerned to be able to act for Papua.