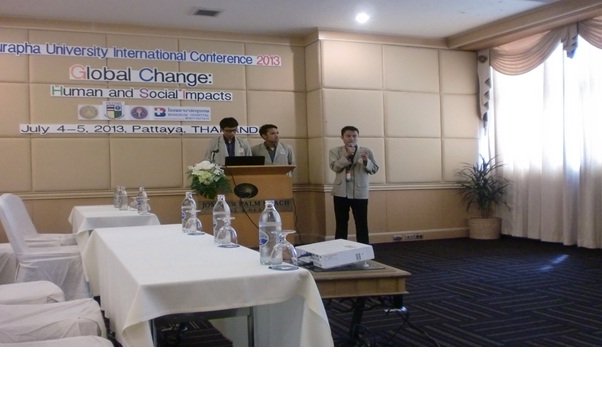 Three students of Faculty of Biology UGM participate in the Burapha University International Conference 2013, Global Change: Human and Social Impacts, held by Burapha University, Thailand, from 4-5 July 2013 in Jomtien Palm Beach Hotel and Resort, Pattaya, Thailand. The students are Imam Fathoni, Isnawan Ibnu Ikrandita and Eza Darisqi.
Ibnu Ikrandita said the international conference was attended by delegates from various countries with a total of 112 papers and posters, which are categorised in 3 sub-themes: Health Science, Humanities & Social Sciences, and Science & Technology. Keynote speakers are Prof. Jesse Lutangbiwa, Ph.D from Appalachian State University, USA, and Prof. Jocelyn Faubert, Ph.D from University of Montreal, Canada.
He added they presented scientific paper entitled Bioactivity Studies of Ethanolic Extract Marchantia sp. as an Alternative Chemical Plant Insecticide Aedes aegypti L. Mosquito.
"Our research is funded by Grand Project of Society Research grant – TP3-F- in Faculty of Biology UGM year 2012," Ibnu said on Monday (15/7).
Their research is on the potential of (Marchantia sp.) as alternative of non-synthetic chemical insecticides for controls of vector of aid transmitter of Dengue Fever, namely Aedes aegypti mosquito. The fever is very dangerous and no vaccines have been found, so the vector control is the most appropriate way.
"Up to now, vector control is done by Abate." Abate is a non-systhetic chemical that can cause the resistance potential in mosquitoes. Marchantia sp. contains contents of alkaloid, flavonoid, and terpenoid that have the potential to kill the larvae of mosqitoes. It is not yet used by many, so it is hoped that the potential of can be more explored.