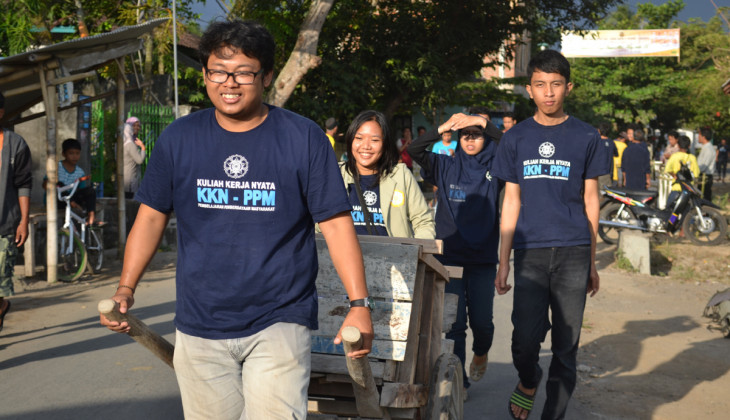 LOMBOK BARAT, NTB – As many as 500 students joined the Student Community Service – Empowerment Programme (KKN PPM) in West Nusa Tenggara, under 13 themes of programme such as critical environment management, renewable energy development, women empowerment and political and legal awareness development as well as entrepreneurship training.
For two days from 13-14 August, Rector of UGM, Prof. Dr. Pratikno, M.Soc.Sc., visited locations of the students' activity programme in Bagik Polak and Labuapi in Lombok Barat and Medana and Sokong in Lombok Utara.
Regent of Lombok Barat, Dr. Zaini Arony, received the Rector. The Regent appreciated UGM for having sent the students to do the KKN PPM there. "On behalf of the local government, I wish to extend our gratitude since UGM has opted and trusted the Lombok Barat area to be one of the locations of Student Community Service," the Regent said.
Zaini further offered the opportunity for UGM to establish stronger cooperations with the regency in terms of development of strategic sector in marine and fisheries, agriculture and tourism.
Prof. Pratikno explained that UGM is very open for cooperations. One of the contributions of UGM is the KKN PPM. "Every activity of KKN is supervised by a lecturer expert in their respective field so they can help development programme in Lombok Barat," he said.
Pratikno also appreciated the local government of Lombok Barat and local committee of UGM alumni in arranging the return of the body of Erlangga Mitra Dewa (22), a student who died on 7 July in Lombok Barat whilst on the KKN PPM programme.
The Rector further saw the training on carrot ice cream making and others given by students in Bagik Polak.
Chairperson of student activity, Hardita Libriasanti Darmawan, said the training is to encourage women to make use of vegetables as one economic opportunity.
Dita said entrepreneurship training is one of the programmes they do in addition to sanitation, waste management, water purification and cattle health management. "In every activity, we ask the local people to participate," she said.
Head of Bagik Polak village, Amir Amraen Putra, 43, said the student service is expected to be able to change the living pattern of the local people, to be able to make use of economic opportunities for the sake of economic income increase. "I would like to continue this student programme, not in physical terms but the more advanced pattern of living of the local people," he said.