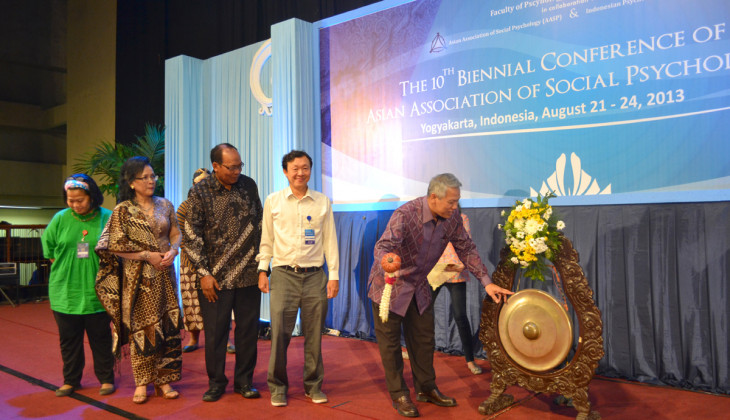 YOGYAKARTA – No less than 880 social psychology experts from around the world have joined The 10th Biennal Conference of Asian Association of Social Psychology on the campus of Universitas Gadjah Mada. The conference that lasts for four days from 21-24 August is attended by participants from the U. S., Japan, Korea, Philippines and Thailand. They present research results on Asia social psychology.
Chairperson of the conference, Dr. Kwartarini Wahyu Yuniarti, said the conference would discuss social psychology that comes from Asian local wisdom. It is because attention to Asian local psychology is very low, so its contribution in education development is low, too. "Asia has now received the attention from American and European as they realise that there are many Asian experts in local psychology," said Kwartarini after the opening of the conference in Grha Sabha Pramana UGM, Wednesday evening (21/8).
According to the lecturer in psychology UGM, since 1995 social psychologists joining the Asian Association of Social Psychology (AASP) started to develop the social psychology that has the source from Asian local wisdom. "Many sources can be explored as the identity of nation of its own," she said.
President of AASP, Dr. Jianxin Zhang, said the meeting would have great benefits to the research cooperation between researchers, so many more researches can be publicised.
Zhang is proud that the 10th AASP is the biggest one compared to the previous years. Participants are interested in the conference due to UGM's reputation in international forum and its location in Yogyakarta as world cultural city. "Yogyakarta is a world heritage city and is loved by many," he said.
Vice Rector for Human Resource and Assetts of UGM, Prof. Dr. Ir. Budi Santoso Wignyosukarto, said in the meeting experts may share experience and use of social psychology, culture, and local wisdom in resolving social problems in society.
Governor of Yogyakarta, Sri Sultan HB X, in his remarks read out by Assistant for Governance and Social Welfare, Drs Sulistyo SH.CN.MSi, said the conference would be able promote social psychology as a reference in the development of world social psychology. The reason is that almost all world educational institutions make use of American social psychology. "Many students learn American instead of local psychology, whereas it is not the only psychology approach to use," he added.
According to Sri Sultan, the U. S. could introduce their original psychology as it is done by experts that are famous already. "In my opinion, character such as Ki Ageng Suryo Mentaram from Indonesia could be introduced further to get to know the Javanese teaching on senses," he said.