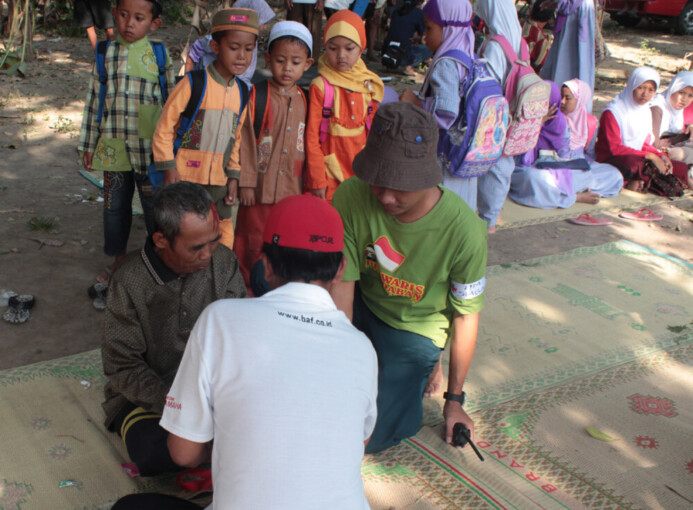 BANTUL – Students joining Student Community Service Empowerment (KKN PPM) UGM conducts an earthquake simulation in Karangsemut, Jetis, Bantul, Wednesday (28/8). Around one hundred people who are mostly women and children ran around and then assembled behind a mosque. In the simulation, residents flee from the "tectonic quake" which is set to be 5.6 on the Richter scale and last for 47 seconds with the epicentrum some 94 km in the south of Bantul at a depth of 9 km.
After assembling in the evacuation point, residents established an alert station and public kitchen. The alert team, who are male young people, came to rescue the injured people, compiling data of victims and inform the Disaster Reduction Forum, Regional Mitigation Agency, the Red Cross and hospitals. Some residents carrying Disaster Response bags were trying to heal people with minor injuries. Some were carrying the injured person using sarong and bambo sticks.
Khamid Fajar Raharjo, 26, one resident, said that the simulation gave benefits to residents in order that they understand disaster mitigation and evacuation. "Now I know what to do should a disaster strike," he said.
Admitted by Khamid that he had not had simulation like this before. During the 2006 earthquake, people were not well coordinated and they rescued their own family. "There were 28 people in our area that became victims in the quake," he recalled.
Student coordinator, Paulus Haryo, said the programme were the continuation of a disaster management programme in July and August where they gave socialisation and training on disaster response. "To participants we also introduced disaster response bags to carry instant food and drinks and important documents," he said.
Students also made an earthquake prone area map, even map of houses that are resilient or not during quakes.

Stefano Tsukamoto, researcher from Osaka, Japan, who came to the simulation said he worked with the students to assist him in his research on community based disaster information system, which he is developing for mobile phone technology. "We work with 10% of appointed residents to report after the disaster. From then we would know what areas are affected," he said.
The information from the residents would be presented in google maps to identify areas that need assistance. The information can then be used by government and the Red Cross as well as NGOs to share information to rescue the people. "Currently, I am developing the research, if successful in Yogyakarta, I am hoping that this can be applied in South East Asia," he concluded.