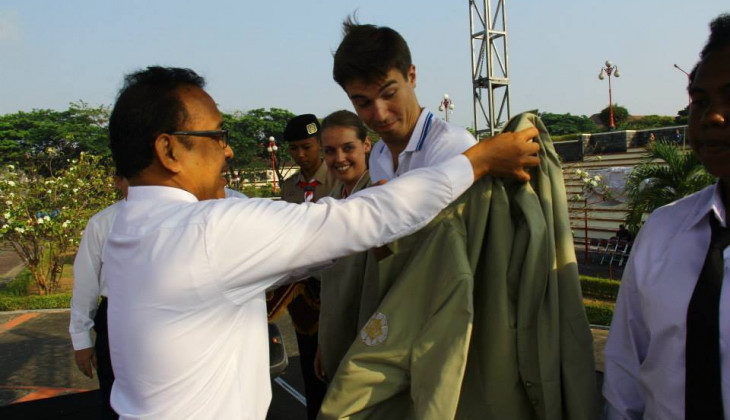 As many as 9,361 new UGM students are received by Rector, Prof. Dr. Pratikno, M.Soc., Sc, in a ceremony in Grha Sabha Pramana, Bulaksumur, Monday (2/9). They consist of 6,572 undergraduate students and 2,789 diploma students.
Rector said the 9.361 new students are the selected young people from Indonesia. They are very lucky as they have passed the selection. "There are over 142 thousands of students who sit in the admission test but only 9,361 are admitted at UGM, the best university in Indonesia," he said.
The Rector said currently UGM joined the ranks of best Asian universities, the position is not only important for UGM but also the students. Many achievements have been made by UGM at national and international levels. "So, I would like to ask you all to follow suit, those who earned awards. All is in your hands to uphold Indonesian dignity and make Indonesia a big and influential country in the world," he said.
Therefore, UGM students are asked to compete with not only students of other Indonesian universities but also international universities. In giving contributions, students should also have broad knowledge, not only their own study programme. "Therefore, in the new student training, you are grouped in clusters and you need to make friends with others from different study programmes and faculties so you get to know each other," he said.
Academic Director, Dr. Agr. Ir. Sri Peni Wastutiningsih, said up to 6,572 new students were accepted through the national selection (SNMPTN and SBMPTN) and the UGM selection while up to 2,789 diploma students were accepted through the UGM independent selection.
In terms of place of origin, Sri Peni said, the new UGM students were from 34 provinces with the number of international students reaches 36.
"As high as 54.75 percent of students are female. The youngest is Alvinasari Arifin (14 years and 11 months old) who is accepted in Faculty of Psychology," she added.
Also present in the ceremony was Deputy Minister for Law and Human Rights, Prof. Denny Indrayana, S.H.,LL.M.,Ph.D, to encourage the students in their studies. He asked them to join extracurricular programme, too, apart from intracurricular programme as these have produced many national figures, such as Jokowi, Anis Baswedan, Machfud MD, etc.
Further in the event, awards are presented to some outstanding students, such as Danastri Rizqi Nabilah and friends who are the winners of Imagine Cup 2013 making stroke therapy equipment; Rizki Evitasari and friends, winner in National Statistics Olympiad 2013, Matin Nuhamuda and friends who earn two gold medals, one silver and 2 Honorable Mention in ON MIPA_PT Biologi Yogyakarta, also Birrul Qodariyah who earns the best student in the national BidikMisi award.
Furthermore, Mohammad Iyasna Indra JA and friends win first and third place as well as a favourite in Alternative Fuel Car Innovation competition; Moh. Faza Rosyada and friends, first winner in International Total Sky Grant in France, Malik Khidir and friends, first winner in International Fire Fighting Robot in Trinity university, U.S., Agyz Badruzzaman and friends, 2 gold medals and 1 silver in Robo Games 2013 Olympic Of Robot, Luciana Wury Triasih, silver award & Best Internasional Performance Festival of Colour of the World (FESCO) in Malaysia, also Samuel Goldwyn Simangunsong, best team in Fali Award and Rahmi Dzikrina and friends in Moot Court competition in Hongkong.