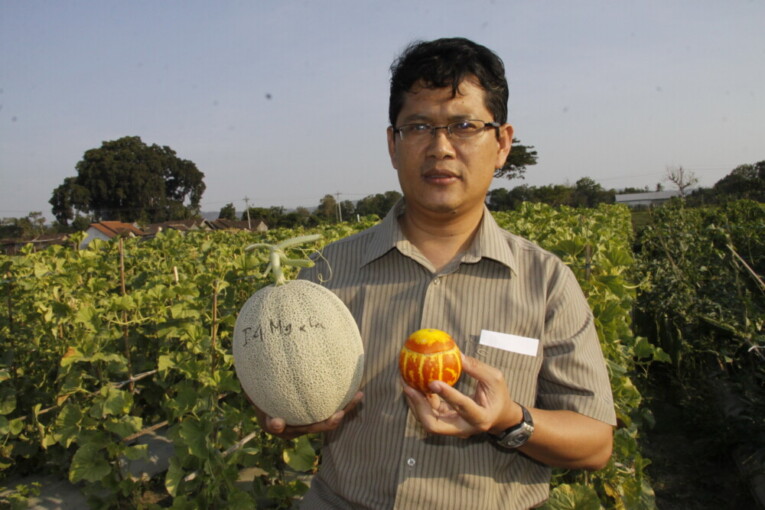 Lecturer in Faculty of Biology UGM, Dr. Budi Setiadi Daryono, M.Agr.Sc, has earned the award as Contributive Biology Scientist in the MIPA UI Wrad 2013 on the campus of UI Jakarta. Other categories in the competition are Maths, Physics, Chemistry and Geography.
Budi Daryono has won over other nominees from other Indonesian universities due to the number of national/internationaljournals he had written, applications of journal/paper and awards he had received.
"I hope the award from sources outside of UGM would encourage other researchers to keep making achievements," he saidon Thursday(12/9). He further hoped the annual competition held by UI would be able to make maths, physics and chemistry as basic science progress while the young generation is getting more interested in studying them.
Budi Daryono who is known as melon researcher of UGM has previously earned international awards, such as Young Scientist Award, The International Society for Horticultural Science (ISHS) (2001); Semi-Special Selection Award by Japan International Cooperation Agency (JICA) (2001); Science and Technology Award from Indonesia Toray Science Foundation (2008); and Business Plan Competition PPI Japan (2011).
Geography Student First Winner
In addition, three UGM students from Faculty of Geography won the first place in the category of poster with the sub-themes Energy Conservation. The students consist of Andika Putri Firdausy, Azzadiva Ravi Sawungrana and Ima Rahmawati from Cartography and Remote Sensing study programme.
They present 2 titles for the Young Indonesian Scientists Conference: "Estimated Allocation of Seawave Power in Karst Areas of Gunungkidul, Daerah Istimewa Yogyakarta" and "Establishment of Mangrove Zone as Natural Biofilter in Efforts to Reduce Environment Pollution in North Coastlines of Semarang".