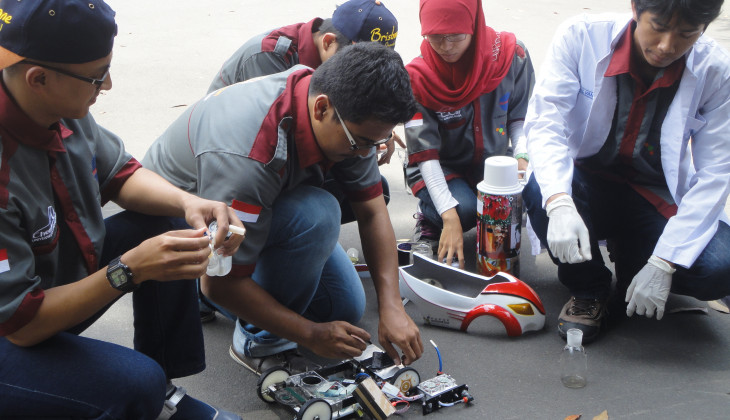 An UGM team of students has made another achievement in an international competition. The Chem-E-Car UGM team has been ranked the first and second places for car performance and poster competition in Brisbane, Australia, from 1-2 October 2013.


"The Subali V car became the first winner and Anjani II car second winner in Car Performance as well as poster competition," said M. Yantriasna Indraja, chairman of the Chem-E-Car team at UGM Public Relations office on Monday (7/10).
Yantriasna said the Chem-E-Car competition has started since 1993 in the U. S. UGM took part in the competition in 2010, becoming overall winner for several times. In the national level for Chem-E-Car in 2013 at ITS university, the Subali V car became the first winner and Anjani II third winner.
Chem-E-Car, said Yantriasna, is a competition of car making innovation using alternative small material. The competition has two categories: Car Performace and Poster Competition.


"The competition relies on chemical reactions to operate the car from one to another point, the one that is closest to the target is the winner," he explained.
The car has to run on a 10-30 meter track carrying loads without skidding.
The UGM Chem-E-Car team did research for four months. The cars are unique in terms of fuel. Subali V makes use of the reactions between Hydrogen Peroxide (H2O2) and Potassium lodide (KI) that produces pressured oxygen gas that can generate the piston.
The Anjani II makes use of the reactions between Sodium Hydroxide (NaOH) and Aluminium (AI) aluminium foil that produces H2 gas. The gas reacts with that from the air in a fuel cell so it produces power to generate the motor.
Sang Kompiang Wirawan, ST, MT., Ph.D, supervising lecturer, appreciated the Chem-E-Car team. He said the competition is one for creative ideas on alternative energy. Chemical formulations as energy fuel makes this competition environmentally friendly, giving hope to energy problems.
"We hope that in future the competition would not only use small car prototype, but also for public transport. We hope after this win, the UGM Chem-E-Car can make achievements in Europe and the U. S.," he said.