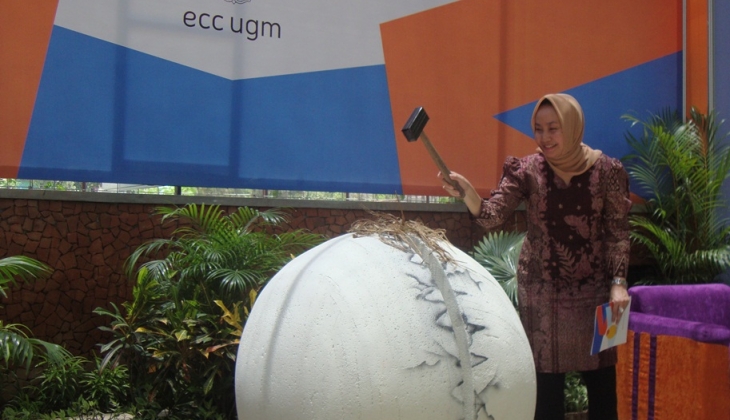 Engineering Carer Center (ECC) in Faculty of Engineering UGM has launched IdeaConnect UGM, officially opened by Vice Rector for Cooperation and Alumni, Prof. Ir. Dwikorita Karnawati, M.Sc., Ph.D. The program is expected to become the means to bridge university and alumni and UGM partners in helping the development of research, innovative products or student activities.
"IdeaConnect came to connect between initiator, i.e. student and academic community of UGM with sponsors whether from inside UGM or alumni, or external party," said Chair of ECC UGM, Nurhadi, S.T., in the launching of IdeaConnect UGM, Tuesday (8/10) in BNI UGM Food Park.
With the crowdsourcing concept, IdeaConnect helps realise student projects that require financial support and monitoring. Each student of UGM may publicise and promote their project ideas through this forum."
Some projects that will be facilitated is products based on technology, innovative and artistic works, research and student activities. Deputy Dean for Research and Community Service in Faculty of Engineering, Ir. Lukito Edi Nugroho, M.Sc., Ph.D., hoped that IdeaConnect could help realise research findings or product development and student activities. "Ideas and creation of students are impressive, but there is some barrier in the implementation in terms of financing while UGM has not been able to fully support them. We have many UGM alumni and lots of them are willing to help; therefore, we bring them together through IdeaConnect UGM," he added.