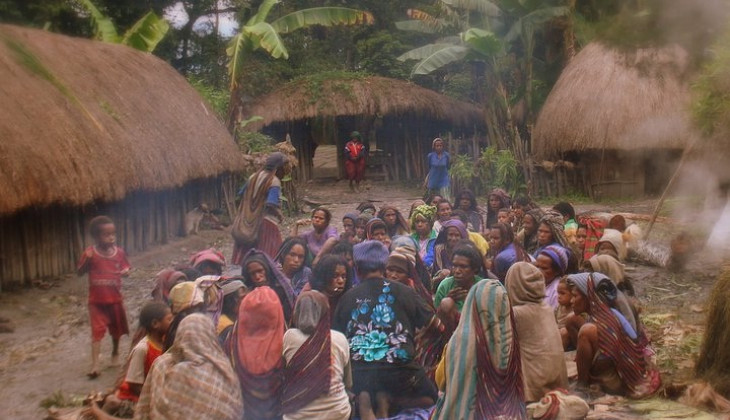 As many as 35 pilot project teachers are ready for teaching in a number of schools in Puncak regency, Papua. They will be sent there as pioneering teachers to run the education of the local people of Puncak. Puncak regency lies on an area of 3000 – 4800 meter above sea level. Most of the region consist of high hills and steep ravines. This isolates the place, giving no access to transportation or communication system. It has high level of illiteracy, which is 76.88% in 2013 (UP4B).

"The regency of Puncak is one isolated place in Indonesia, having geographical challenge that affects the socio-cultural development, particularly education. Education infrastructure and facilities are very minimal and teachers are inadequate," said chairman of Papua working group of UGM, Drs. Bambang Purwoko, in a teacher selection opening event in Yogyakarta recently.
The program is a collaboration between the Papua working group and Centre for Capacity Development and Cooperation of Faculty of Social and Political Sciences UGM and the local government of Puncak.
The 35 teachers are from different regions who have passed the recruitment process in Yogyakarta and Makasar.

"Unlike previous programmes, this pioneering teachers have to graduate from education study programme, so they would have adequate paedagogical knowledge to teach," said Bambang Purwoko.

Atiyatul Izzah, recruitment committee chairman, said after the selection, all teachers have to join training before departure from 15-19 October 2013 to prepare their mental and physical condition. Mental training is done by field practice in SD Negeri Samirono, SMP Negeri 5 Yogyakarta, and SMA Negeri 9 Yogyakarta while physical preparation is done by health check in GMC UGM.
The first activity is welcomed positively by the people of Puncak as a form of UGM contribution to advance education in Papua.
The Papua working group of UGM works in synergy using network resource with the spirit of dedication.
"We have the initiative to establish the cooperation to advance the Puncak regency. We hope that the teachers would be able to improve education here, so the lives of our people would improve, too," said Regent of Puncak, Willem Wandik, M. Dev.

Release of the teachers is planned to be conducted on Saturday (19/10) at 09.00-11.00 hours in Balairung, UGM by Rector of UGM, Prof. Dr. Pratikno, M.Soc.Sc, as well as Drs. Bambang Purwoko and Willem Wandik, M. Dev.