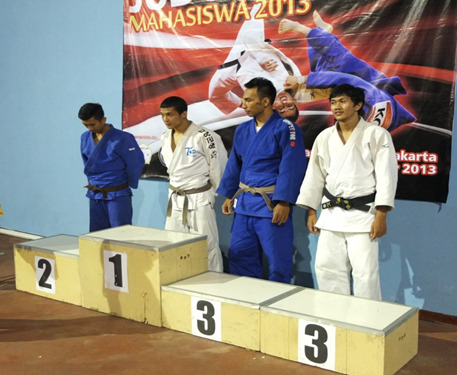 The UGM Judo team has won three medals in the National Judo Championship that last from 18-19 October 2013 at Universitas Negeri Yogyakarta (UNY).
A silver medal was won by Lannang Kurnia Jati (Archeology) in the -90 kg male category whilst two bronze medals were won by Ardiyan Setiyawan (D3 Management) in the -100 kg male and Rezki Meidiono (Nuclear Technology) in the -66kg male categories.
The manager of the team, Aulia Kusuma Wardani, said in the competition UGM sends ten athletes and one official for seven categories: -60 kg male, -66 kg male, -73 male, -90 kg male, -100 kg male, -45 kg female, and -78 kg female categories.
Aulia expressed her pride with the achievement as these have surpassed the target, which is two bronze medals earned in an international competition last May. This showed UGM increase in performance.
"Even so, in the competition the female categories have not produced any medals. That's why we need to re-evaluate the training for female athletes," she said on Monday (21/10) on UGM campus.
Aulia hoped the success would motivate all UGM judo athletes to be able to give their best perfomance in each judo competition. "I hope this would motivate other UGM judo athletes to always give their best in each competition," she said.