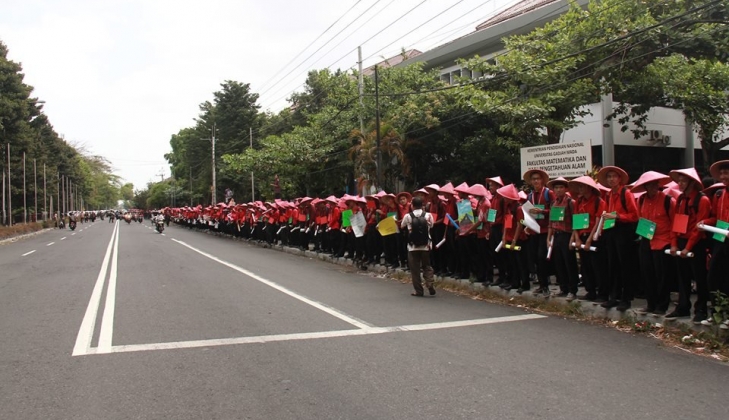 Students of UGM dominate the presentation competition on the 16th National Transportation Symposium at Universitas Muhammadiyah Surakarta on Saturday (3/11). The UGM students became the first winner in S1 category, first winner in S2 category, second winner in S3 category and The Best Speaker in English.
In S1 category the winner is Hafida Fahmiasari (Civil Engineering and Environment UGM), in S2 Dian Setiawan M. (Transport System and Engineering Magister UGM) as well as The Best Speaker in English while in S3 category the second winner is J. Dwijoko Ansusanto (Civil Engineering UGM). First winner is from ITB.
Prof. Dr.-Ing. Ir. Ahmad Munawar, M.Sc, member of Steering Committee, said the Transportation Study Forum is annually held between universities in Indonesia. Each round, presentation competition in S1, S2, and S3 categories became the most important agenda.
"The Transportation Study Forum is aimed at encouraging increased interaction and communication between students, teaching staff and researchers of each university and institute has transportation academic, research and community service," he said.
In Ahmad Munawar's view, it serves as a forum to balance the Tridharma activities in the form of formal meetings annually. The idea came from the HEDS JICA (Higher Education Development Support – Japan International Cooperation Agency), establishing cooperation with the Bandung Institute of Technology (ITB).
Collaborations include paper delivery of research in transportation from Indonesian universities, beginning with the appointment of ITB by JICA through the assignment of Prof. Dr. Ofyar Z. Tamin as Chair of 1st Symposium on 3 December 1998. The current chair is Dr. Sony S. Wibowo from ITB.
"The first three symposia are funded by JICA, but the later is funded by members. The Forum has published a Transportation journal which is already accredited. The next symposium will be held atUniversitas Jember," said Head of Transportation Laboratory of UGM.