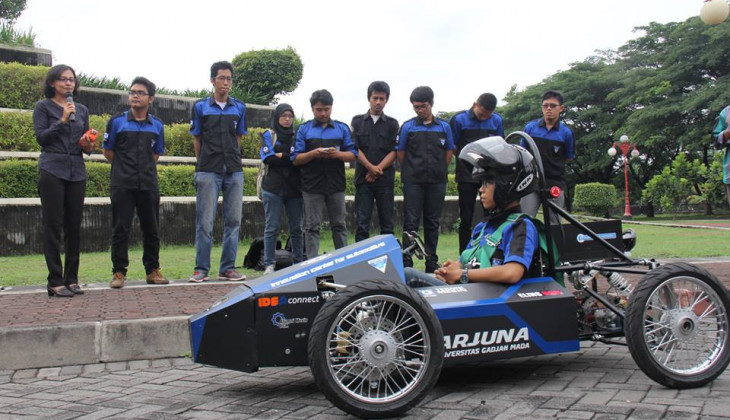 After producing energy efficient car, SEMAR, and formula car, BIMA SAKTI, students of Universitas Gadjah Mada created an electric racing car, ARJUNA. The car made by ten students in Mechanic Engineering and Industry and Electronics and Instrumentation have even won third place in the Indonesian Electric Competition in efficiency category, held from 25-27October in Bandung.
Technical team chairman of the ARJUNA car, Rizky Muhammad Ramadhan, said ARJUNA is designed in order to reach the right level of efficiency. He illustrated the ARJUNA car can go at a 30-km distance after receiving only one charging.
"One charging of the car that lasts for 3 hours will allow the car to go as far as 30 km," said Rizky in Ghra Sabha Pramana UGM on Tuesday (12/11).
He added ARJUNA can run 30 km/hour. This electric car can actually be designed for a higher speed, but that would reduce its efficiency. ARJUNA consists of main components such as 4 batteries, 2 controllers, 2 BLDC motors each at 800 Watts 48 Volts, 4 safety belts, and a rollbar. Except the motor and controllers, all components are domestically made and assembled by those students.
"The rollbar protects the driver if the car should turn upside down," said the student of Mechanic Engineering and Industry class of 2011.
Similarly, ARJUNA team chairman, M. Ryan Ardiansyah, said the car is equipped with electronic differential that allows stability when the car runs at a road turn."Despite the two motors, it will stay stable when making a turn,"said Ryan.
ARJUNA which costs some IDR30 millions in design is displayed at the UGM Research Week, 13-17 November 2013, in GSP UGM. Next year ARJUNA will make a show in the Indonesia Electric Vehicle Competition at UGM.